I recently noticed that my warship was having problems pulling a decent length train. mormally this is one of my best loco's so i had a little snooping around and noticed that one of the cups on the end of the cardan shaft had cracked from end to end and was slipping on the shaft. a closer inspection revealed that the one on the other bogie was also starting to crack. so a phone call to bachmann soon followed and about a week later i had 2 cardan shaft cups sitting on my desk.
I thought i would take some pictures to help those of you who are afraid of taking a loco apart and try and explain how its done.
Please excuse py pictures. the light is very bad and the camera is pretty lousey so please bear with me. this is the first time i have done this but if you like i can do more as i seem to be servicing both mine and freinds loco's now.
the loco.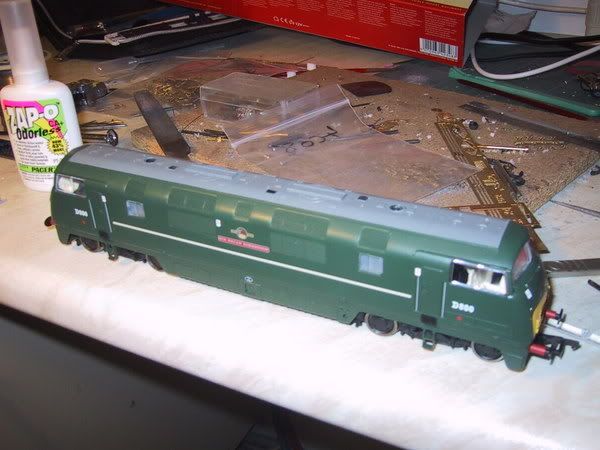 Frist off you have to remove the cover. Take a good look around because if you cant get it back to this condition then you wont be able to make it run again and its embarissing to have to go and ask a freind to put your loco back together! (and even worse if you have to pay for it!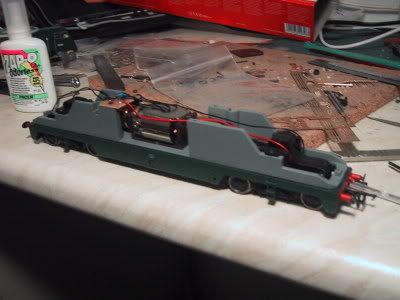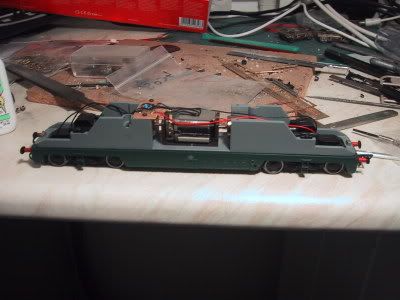 Once again sorry for the puicture but this shot shows the offending piece. the brown piece on the end of the worm shaft.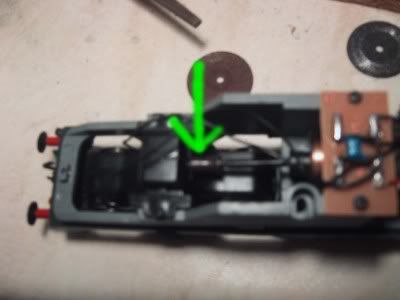 Next we have to remove the bogie. i start removing the 2 black bogie retaining clips. this is a simple job with 1 screw into each. i thought that i would be able to feed the entire bogie - wheels and all through the hole in the chassis. but it was far too big.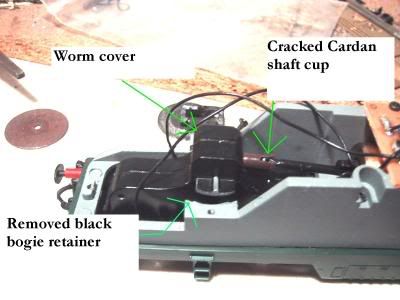 in order to pass the bogie through the frames the side frame assembly needs to be removed. it is a simple clip fit. after that the wheels just fall out and the bogie can be passed through.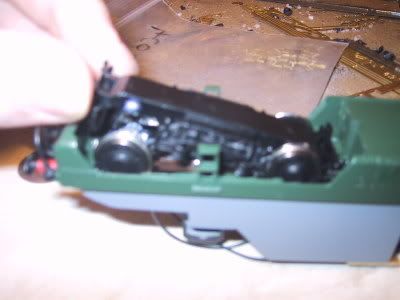 The old cup came away with a p[air of pliers and then came the rather nerve wraching and crude method of fitting the new cup. place it in some warm water to soften the plastic slightly and then tap the worm/axel assembly into it. i couldnt find my small hammer so i had to use the big one (dont laugh i was being very carefull!!)
Tehn comes the task of resassmebling the loco. remembering of course to insert the cardan shaft.
The finished result was a loco that ran as good as the day i got it. these chassis are wonderfull things. and they run like silk. this model has the old mainline body with a blue riband chassis. it more than holds its own against some of the much newer models. its a pity that its such an ugly loco!
Peter Morgan