Discussion Starter
·
#1
·
I finally got around to gatting a ruler on the new Bachmann china coaches that came out just a few days before christmas. I am not sure if they are available in the UK yet.
There are 3 new types.
The YW22 Hard sleeper.
This one is still sitting in a living room in beijing and so I cant review it yet but watch this space! The models are already very rare. this is a very common coach and it looks like Bachmann didnt do a big enough production run.
the CA23 Dining Car
One per train. the models can still be found at ECHO.
XL22 Baggage car
Again fairly readily available.
A little Backround. a few years ago bachmann released a YZ22 hard seat coach an lets face it it was pretty shocking! the green was far too bright and it sat miles too high and was practically 'toy like'.
So it was very welcome news when they announced the new coaches.
Now to the models.
The CA23 dining car
My example is CA23 891556 (based in Zhengzhou)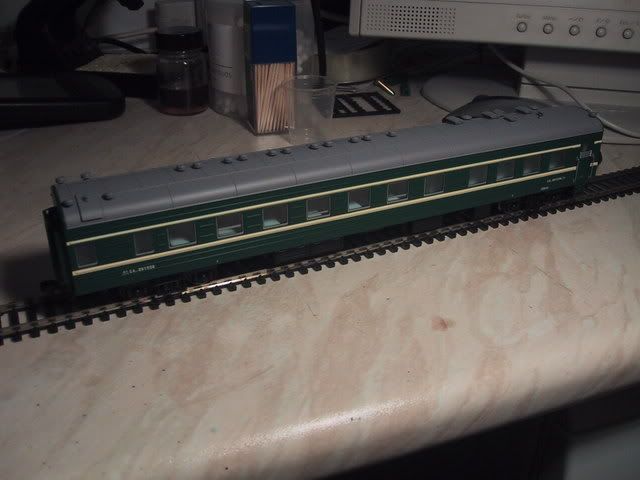 I actually couldnt find an exact match in China's official drawings book but thats not to say its in any way wrong.
This was the closest i could find.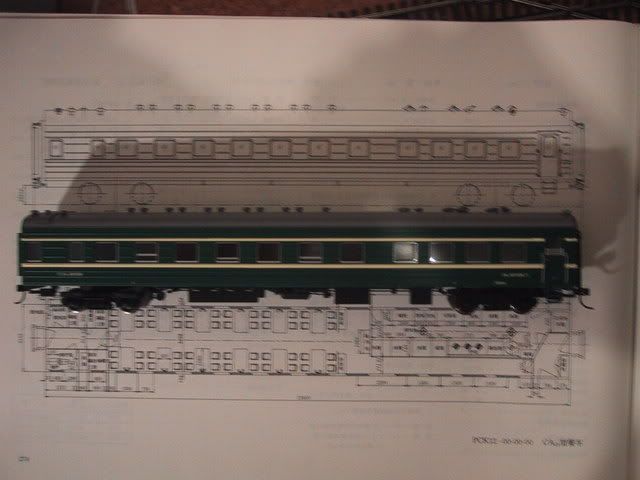 All the windows are correct for this (and for several other diagrams) and the roof vents are pretty much as drawn.
The biggest flaw with the old hard seat coach from bachmann was that it sat miles too high. So that was the first thing I looked at.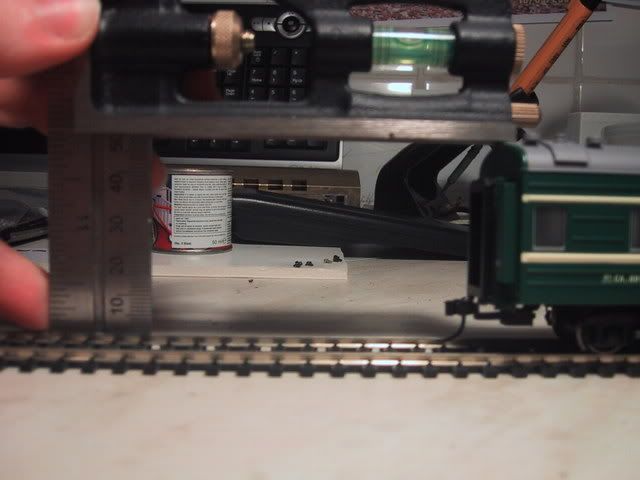 It came in at 54mm which scales to 4698mm. the official book has this type of coach shell toppin out at 4285mm so its still a tad high (40cm) its less than 1mm out so as far as i am concerned thats spot on.
It was also pretty well spot on in width, scaling to 3132mm (official drawing has it at 3106)
and absoloutly spot on in length 23620mm
from rail height to the bottom of the body shell scaled to 1044mm (should be 1213mm)
and to cant rail 3567mm (should be 3594)
Next came the baggage car
the dimensions are exactly the same as the others so there was no need to check it.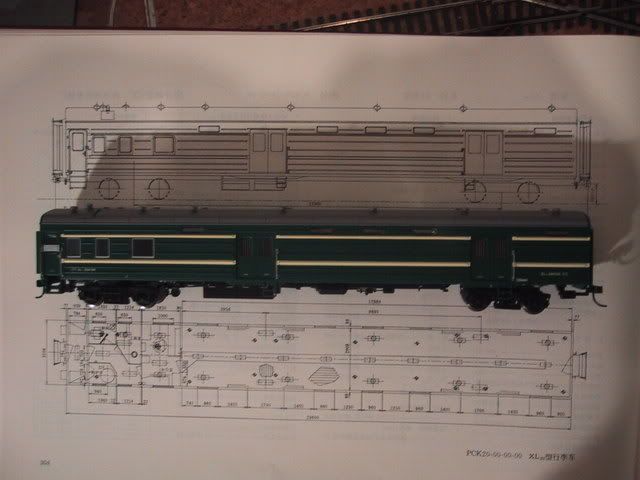 I found an exact match for this one in the diagram book.
and evrything about this coach is perfect. the roof is correct, the windows and doors are all where they should be and all the correct size. you cant really ask for any more than that.
My one criticism of these coaches are the couplings. they are fitted with the new bachmann metal couplers and they donbt close couple very well. They do come with a drawbar to swap for the couplers but even then they are still much too far apart. I can see some improvising there at some stage.
Both coaches are fitted with the same underframe and the couplers are fitted into NEM coupler pockets.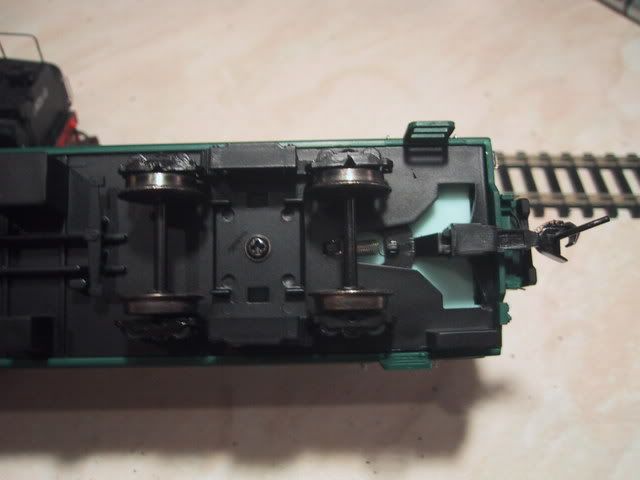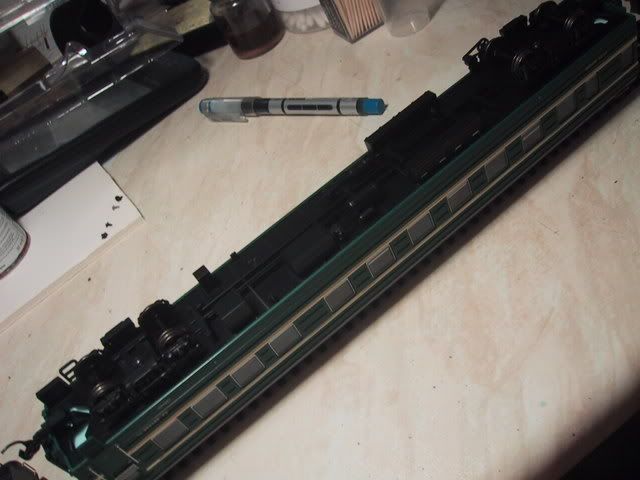 the old style couplers and the new style.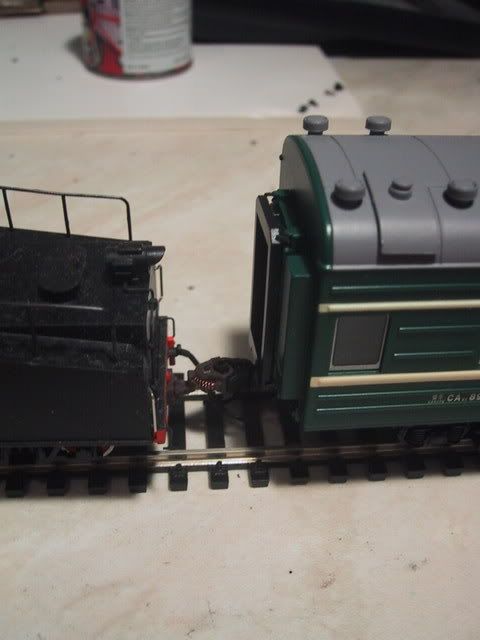 Conclusion. these coaches are must haves for anyone modelling chinese railways. the would look the part on any layout from the 60's right up to present day.
the models are spot on accuracy wise and apart from the couplings I cant think of a single complaint.
Now Mr Bachmann pretty please could we have an RM or a JS???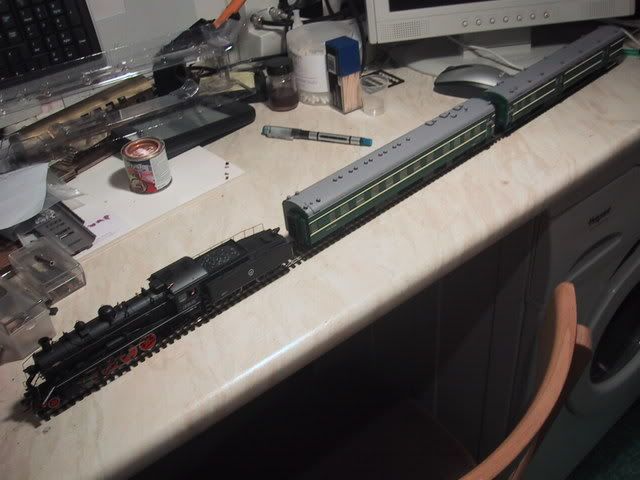 Peter