QUOTE (simonj @ 9 Sep 2007, 20:10)
<{POST_SNAPBACK}>
I've got a few Fleischmann bogie container wagons which I was never 100% happy with as the containers are poorly held in place by big pegs and never seem to seat firmly(http://www.fleischmann.de/images/products/big/8252.jpg). On this model (http://www.fleischmann.de/images/products/big/8250.jpg) the roof of the longer white container is slightly warped so it leaves a gap at one end when in place ruining the look). The other problem is that when you run the wagon with the container, this row of big pegs is still visible and looks unrealistic.
Yesterday I bought a minitrix version(from the Alpine set) and was surprised how good it was. The chassis is die cast so it doesn't flex and the containers are weighted and have very tiny pips which locate into the diecast chassis and doesn't leave an unrealistic gap as found with the fleischmann versions.
Hello simonj,
Do you mean one of this type?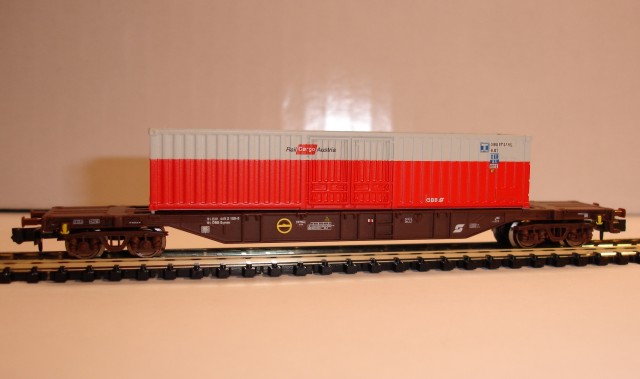 I have to agree they're absolutely superb, and a bargain at half the cost of the Fleischmann ones you mentioned which are quite a few years old I understand. Having bought about half of the models in the Alpine set (Minitrix 15645) I can't recommend them enough - close-coupling, value for money, well packed with a protective plastic sheet, crisply printed details, metal wagon bodies etc.
The Habbins sliding wall vans are brilliant and the one for the FS is almost unlabelled and perfect for modifying with decals etc. and with 3 ÖBB wagons and 4 SBB ones in the set I'm rather delighted. Italian and French modellers will be happy too.
Hurrah for Minitrix!
It should be said though that Minitrix has for the last few years been cranking out excellent model after excellent model - the principle difference with this set is that the models are available individually in around the
£13-14
region which is new territory price-wise!! Expect to see long rakes of these wagons on European N layouts at exhibitions in future...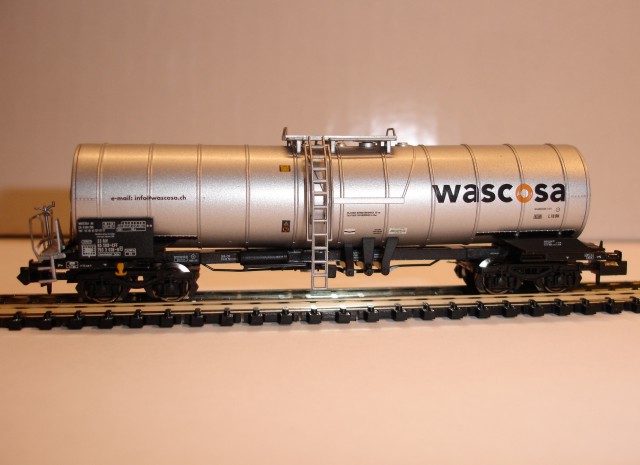 The detailing on the new tank wagons is simply brilliant, I love the metallic finish (not quite captured in the picture).
Here is the whole set:
A very happy
Goedel