Discussion Starter
·
#1
·
Hello folks,
Don't know if this is quite the right place to post this - but here goes.
Back Story:
My son purchased a Hornby Class 43 / HST at the recent Derby show. We've managed to sort out the lumpy running by replacing
the bogies in the two end power cars with a couple of Tenshodo/Hanazono motor-bogies, however we either butcher the crude
Hornby moulded plastic bogie frames to fit as side frames to the Tenshodo's OR we find an etched brass (or fine moulded ABS
plastic) bogie or side frame to fit as quite honestly, the Hornby effort is absolute pants. Would like both ends of the power cars
to have matching bogies and wheels.
I have a couple of questions.
(1) Where could we get some etched brass or some more finely-detailed bogies or side frames from? I have come across
numerous sites that do such things, but haven't been able to find a Class 43 / HST version.
(2) Probably easier to answer. I'm lookin for some 14mm disc wheels that would match (or closely match) those on the Tenshodo
bogie. Ideally, it would have a metal axle and insulated metal wheels at both ends. Again, I haven't managed to track any of
these down either (no pun intended).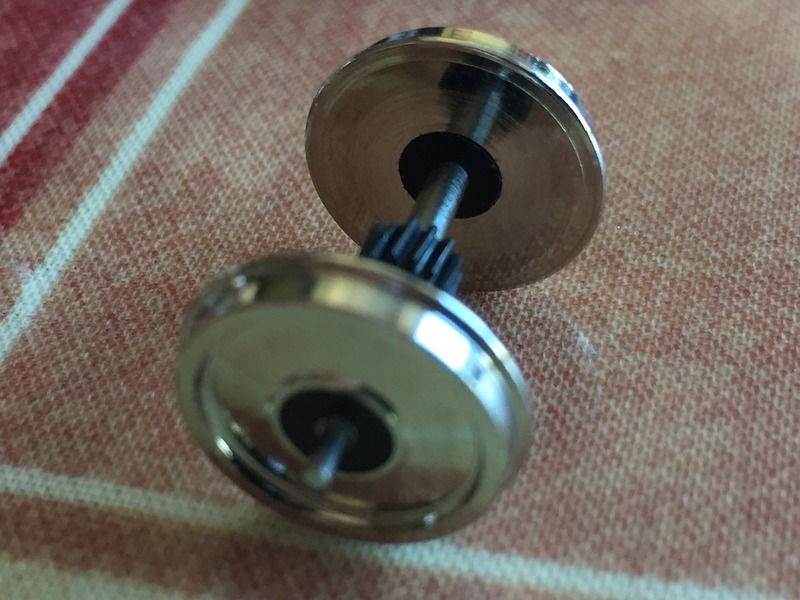 Any help gratefully received.
I know that these questions anren't strictly 'finescale' but they seemed to fit best in this section of the forum. Mods please move
to more appropriate place if necessary - thanks.
Art