The Turkish State Railways (TCDD) had a fair amount of steamers from all over the world.
Most of the stock was from Germany & USA, but a fair share was from Britian too.
The most celebrated British loco as you all know by now was the Stanier 8F of which we have covered a fair bit at this very forum. Its history is well known. However there are those which are a complete mystery and we have very few information on them.
I would appreciate any info/pictures that you can provide me with of these steamers. Their classes, numbers etc.
Most of all, it would be quite interesting to know that if any models of these exists, you never know I might start a separate layout in OO and run these along with the 8F
. The TCDD numbering system of the classes were quite different and we have no chance of knowing the Brit class numbers apart from the 8F.
I am compiling a list below of the British loco's in the inventory of TCDD so any help in identifying them will be highly appreciated.
3361
(TCDD Plate no.)
Axle: C't
Total quantity: 2
First year: 1888/91
Manufacturer:
Stephenson
Ex ORC
3411
No pictures unfortunately, only info:
Man:
Stephenson
Year:1911
Engine axle type C1't
Driving wheel dia 1384 mm
Front bissel wheel dia 1067 mm
Number of cylinder 2
Cylinder dia 457 mm
Piston stroke 660 mm
Boiler pressure 12 bar
Grate surface 1,77 m2
Heating surface 115,6 m2
Superheating surface n/a m2
Fixed wheel base length 4,65 m
Coupled wheel base length 4,65 m
Weight empty 51,8 T
Weight loaded 61,2 T
Water capacity 6,4 m3
Coal capacity 3 T
Overall length 11,1 m
Max speed 65 km/h
Tractive effort 9 T
4501
another mystery,
Axle: D1't
Total quantity: 3
First year: 1911
Manufacturer:
Stephenson
ex ORC
33011
Only data:
Axle: C
Total quantity: 8
First year: 1889
Manufacturer:
Sharp Stewart
Ex ORC
Engine:
Engine axle type C
Driving wheel dia 1384 mm
Number of cylinder 2
Cylinder diameter 477 mm
Piston stroke 610 mm
Boiler pressure 9,8 bar
Grate surface 1,5 m2
Heating surface 106 m2
Weight empty T
Weight loaded 39 T
Adhesion weight 39 T
33021
Total mystery
Axle: C
Total quantity: 6
First year: 1911
Manufacturer:
Stephenson
Ex ORC
33031
Axle: C
Total quantity: 2
First year: 1868/70
Manufacturer:
Swindon
Ex ORC, supplied by ROD during WW1
33041
Axle: C
Total quantity: 1
First year: 1883
Manufacturer:
Swindon
Ex Great Western Railway (GB), supplied by ROD during WW1, ex ORC
44091
Axle: D
Total quantity: 4
First year: 1906
Manufacturer:
Stephenson
Ex ORC Rly
45121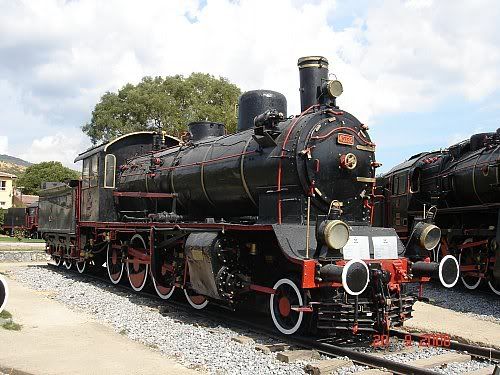 Axle: 1'D
Total quantity: 12
First year: 1912
Manufacturer:
Humbolt
Ex SCP Rly
Engine axle type 1'D
Driving wheel dia 1400 mm
Front bissel wheel dia 850 mm
Number of cylinder 2
Cylinder diameter 530 mm
Piston stroke 660 mm
Boiler pressure 12 bar
Grate surface 2,4 m2
Boiler pipe length 4,5 m
Heating surface 174,1 m2
Superheating surface 33 m2
Fixed wheel base length 4,9 m
Coupled wheel base length 4,9 m
Overall wheel base 6,9 m
Weight empty 56,5 T
Weight loaded 61,9 T
Adhesion weight 50,4 T
Load per driving wheel 12,6 T
Max speed 65 km/h
Tractive effort 11,9 T
Power (HP) 1010 HP
Tender axle type 3
Tender water capacity 15 m3
Tender coal capacity 7 T
Tender weight empty 15 T
Tender weight loaded 37 T
46101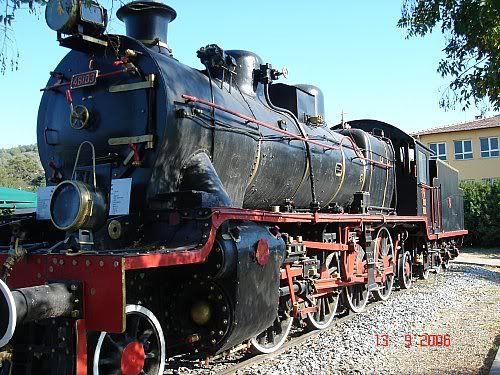 Axle: 1'D1'
Total quantity: 6
First year: 1929/32
Manufacturer:
Stephenson
Ex ORC Rly
Thanks
Baykal