Discussion Starter
·
#1
·
Here is my promised trip report from beijing this summer.
Unless you have been living in a cave for the last 6 months you will know that Beijing hosted the summer olympics this year. this just happened to coincide with my visit. China had made a real effort to improve the infrastructure in the city. Brand new trains were in use on most of the metro system. They were being introduced as fast as possible and by the start of the olympics they had replaced about half the older trains on the entire metro system. the new train are a vast improvement on the older designs, they were not articulated but they did have very wide corridor connections similar to the newer trains on the paris metro. the air conditioning was simply supurb (i was completly stunned at this. they keep saying it cant be done on the london underground but they seem to manage it with great sucess in Beijing). the passenger TV screens that would normally have been showing adverts were showing a DvD explaining the rules of various sports. i fully expect them to be back to showing adverts by now but it did occour to mee that this was a great was to educate the public. perhaps other cities might concider showing short documentries instead of bombarding us with unwanted adverts. the volume of the announcements was also a real plesure. instead of being bombarded with annoying announcements like we get in the UK information was kept concise and not overpowering or in anyway annoying (take note london!!)
Despite my brand new DSLR i still had great difficulty taking pictures on the metro.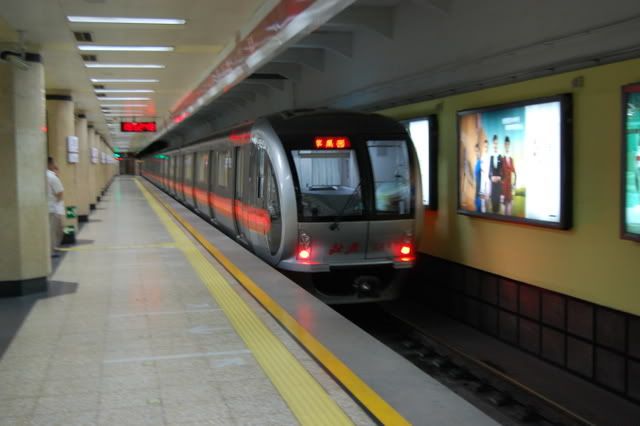 My new stepdoughter is already going off to university and my new wife had to go off and sort out some paperwork. this gave me the opportunity to visit a park i had discovered last year just south west of beijing east station. it has a small hill overlooking the park. fortunatly this hill is placed up against the wall that seperates the park from the mainline and gives me the best view i have yet found in beijing.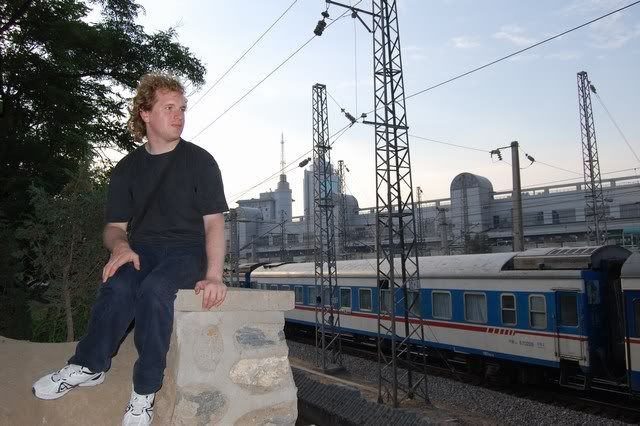 The pace of change is so fast in China at the moment that just about any station will contain a huge range of roling stock from the very latest imported shinkansens to hydraulics dating back to the 70's.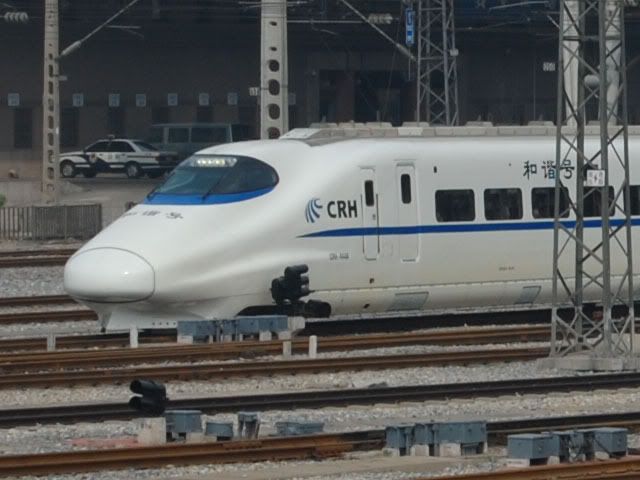 CRH2
The DF11's were out in force. I cant really get a taste for these. i'm afraid i just find them ugly.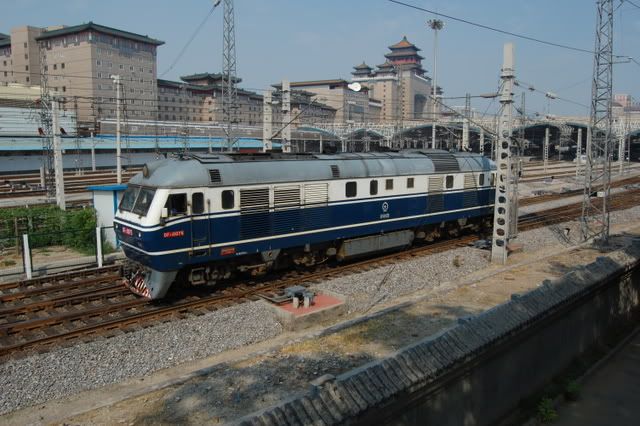 The DF4's were still there. there were far fewer of these this year than there has been. they made thousands of these but they seem to be a rare breed in Beijing at the moment. these are starting to show their age now and the crews dont seem to have the fondness for them. for some classes you can tell that they take allot of pride in their loco's but i didnt see a good looking DF4 on this visit.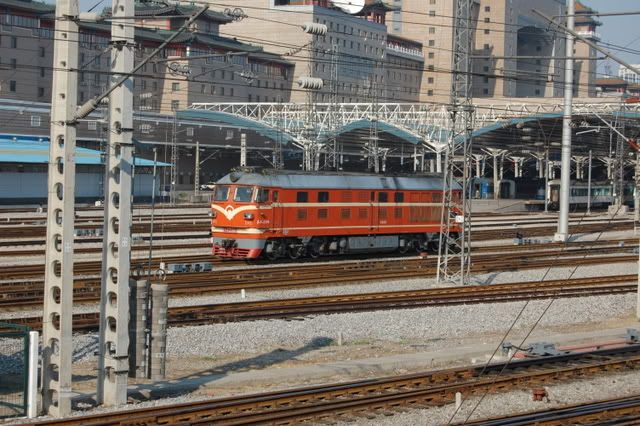 It was great to see a Beijing class still running. for some reason these loco's just keep going and going. they are like the duracell bunny!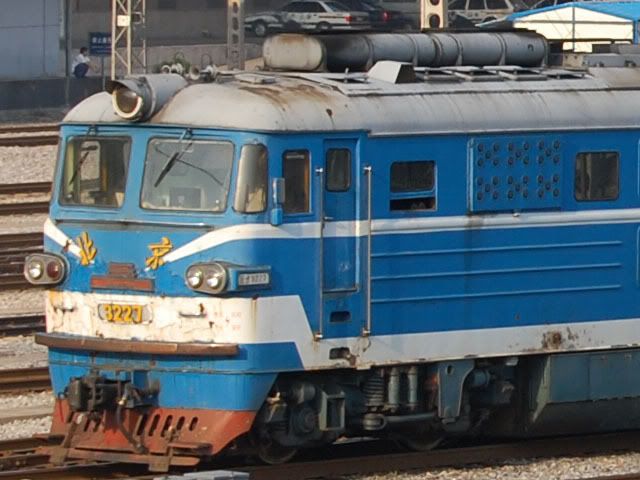 The ubiquitous SS8's were there by the thousand. (got a little tired of seeing these!)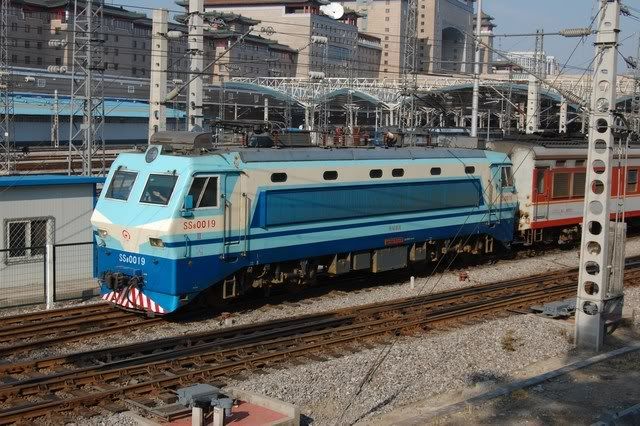 The mighty DF11Gs are mainly seen at Beijing central but you do get the odd one at Beijing west. unfortunatly my mission to get a decent picture of one was once again foiled!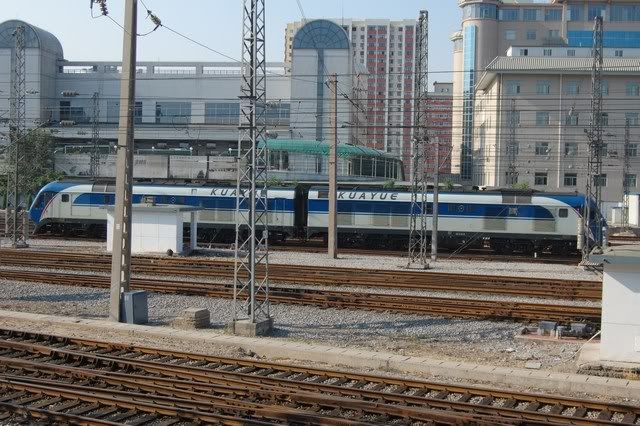 A real supprise was an SS3! i had never seen one before and i had no idea what it was. it rolled in on almos the furthest trackand was a complete pig to photograph.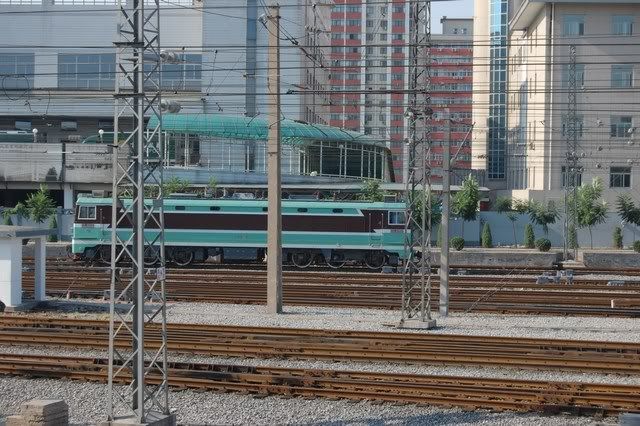 the station pilots were having fun this day. they do like the attention of the camera!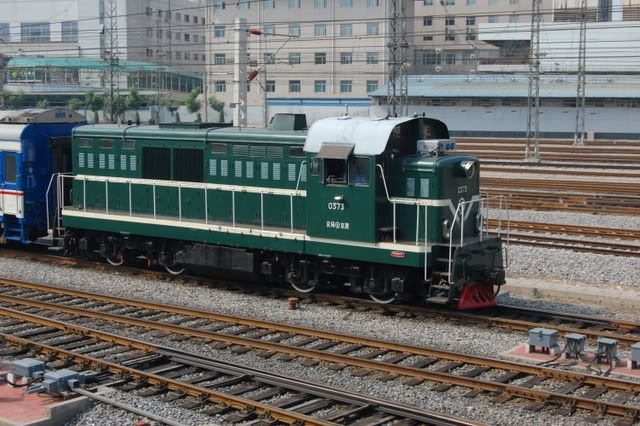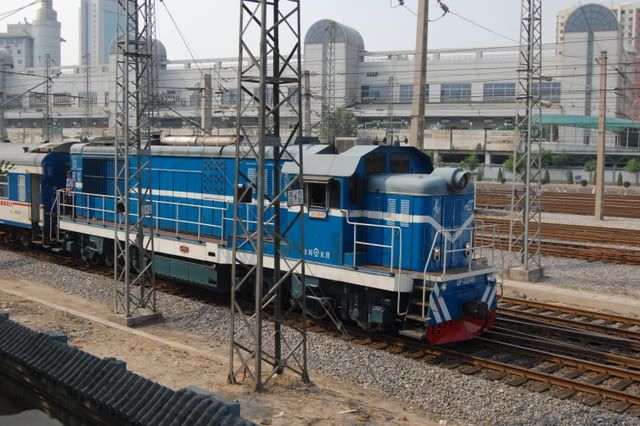 On leaving the park i got a really nice view of the station building. its not the greatest piece of architecture in beijing but irather like it. unfortunatly the quality of the building is so poor that its not expected to survive even a moderate earthquake.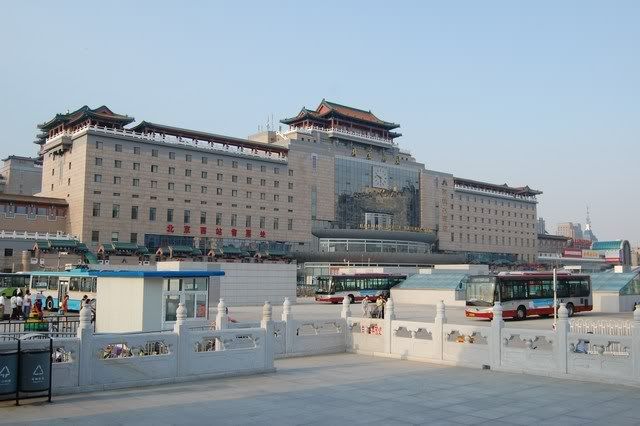 The next day i again had some time to myself so i went for a ride on the northern loop line of the metro.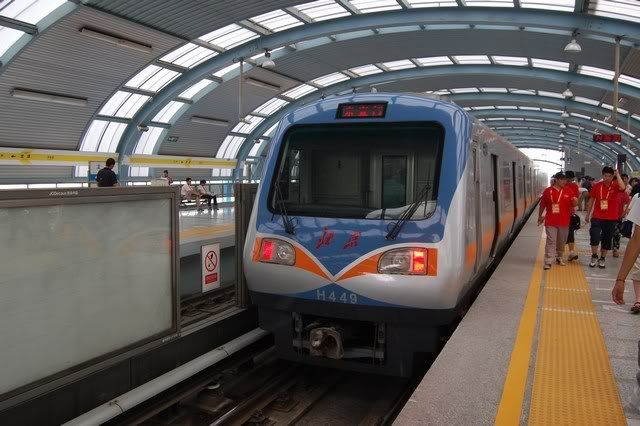 i was hopeing to explore the lines to the north of the city and i had been told that the northern bypass line ran paralell to the subway line and was worth a look. unfortunatly today it was a complete loss. there was really nothing to see. the best part was leaving the first station on the metro. it overlooks beijing north station and there was a brand new CRH6 just sitting there begging to be photographed.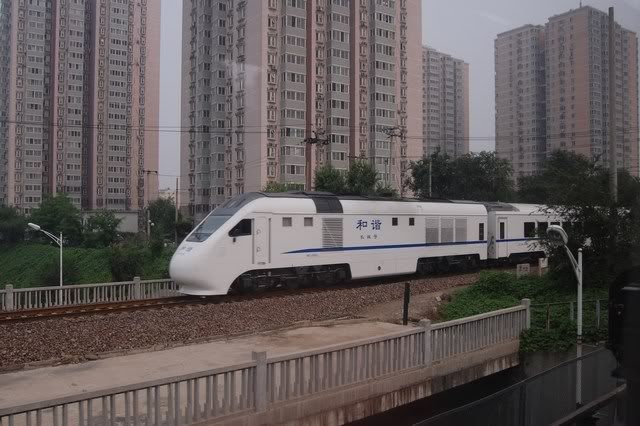 Next day we went to Tianman square. nothing railway related there but the chinese have rebuilt tianman street to represent beijing as it was 100 years ago. complete with recreation trams. i thought they were worth of mention on this site. there are 2 tracks running paralell untill the end of the street where they spread apart. there are only 2 trams (one for each track) and no pointwork at all. the street was far too busy to have them running (it was the opening day) but i did get some pictures. i really dont know what to make of this. it was all a bit disneyland but the trams themselves looked very smart.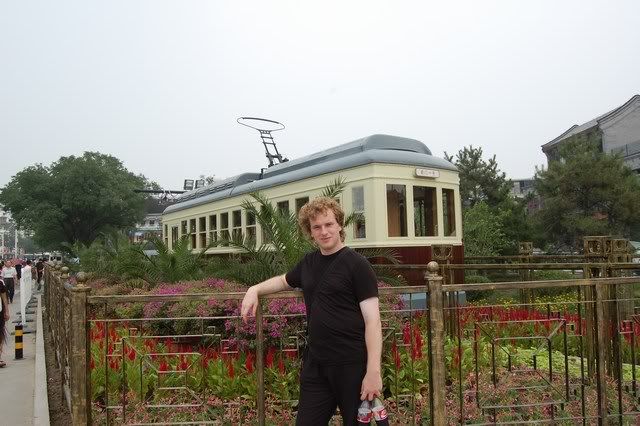 at the other end of the street the tracks simply end. no markers, no stops, nothing.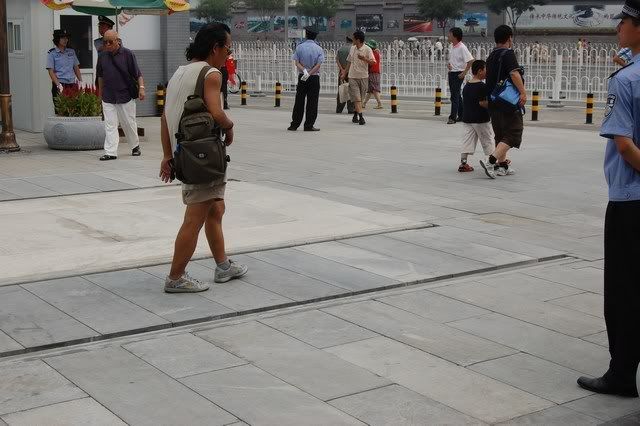 Next day we left for our honeymoon.
we went to a village north east of Beijing. we went there by train and returned on the bus.
Beijing central is very difficult to describe. I dont know anything about chaos theory but i believe it has something to do with there being order and even great beauty in situations that appear to be completly random. that sums up buying a ticket at beijign central!
desks will open and close at any moment. entire queues will migrate from one desk to another seemingly for no reason, and even when you do get to a desk the person behind the counter may speak a dialect that us completly alien to all but a handfull of chinese!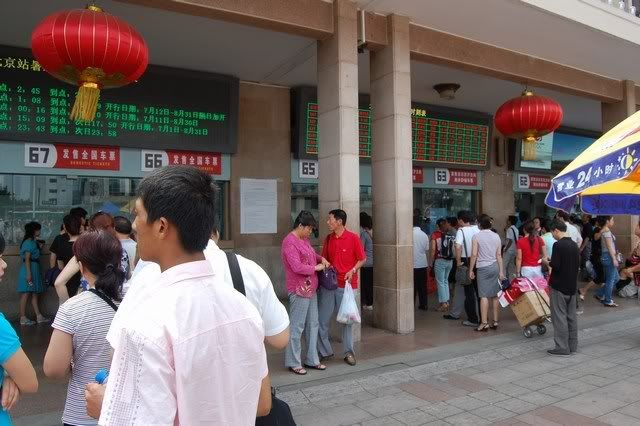 Despite the queues for tickets the station building itself is pretty impressive. this is the main hall. its not really used much now other than as a way of getting to the new waiting rooms. i was bing pushed buy literally thousands of people and only managed to take this snap from the esculator.
After leaving the waiting rooms you walk along a catwalk to get to your platform. this is a good way to get a quick look at a huge variety of rooling stock. there are trains to all corners of china and north korea and russia.....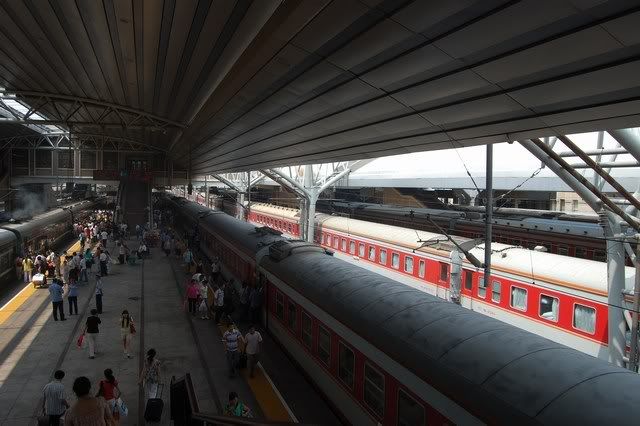 While waiting to board our train i had a few moments on our platform to take some pictures. at the end of the platform there were a pair of DF4's sitting ideling.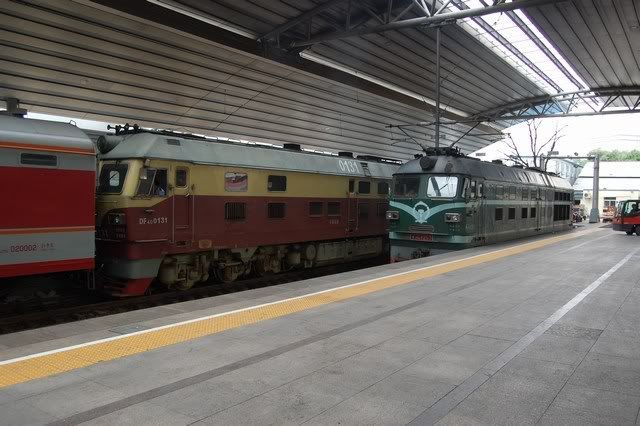 a SS9 just begging to be photographed! (do you ever get that feeling that god has put a loco in a special place just so you can take a picture!!)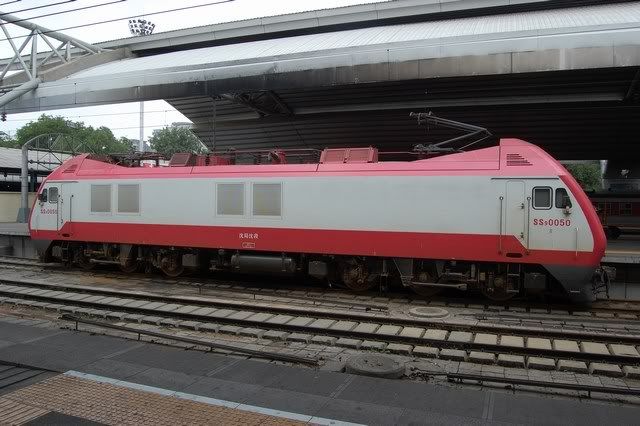 My new wife was frankly horrified at having to travel one one of the older trains, but i knew that they would be phased out soon and this may be the only chance i ever get to travel on these earlier coaches.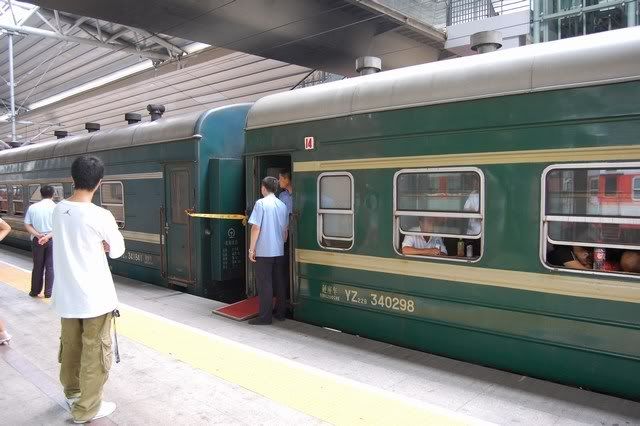 just outside the station is the central depot. i had visited the depot 3 years ago so i didnt take many pictures this time but a complete supprise was a rare DF10f. i managed to get a quick snapshot.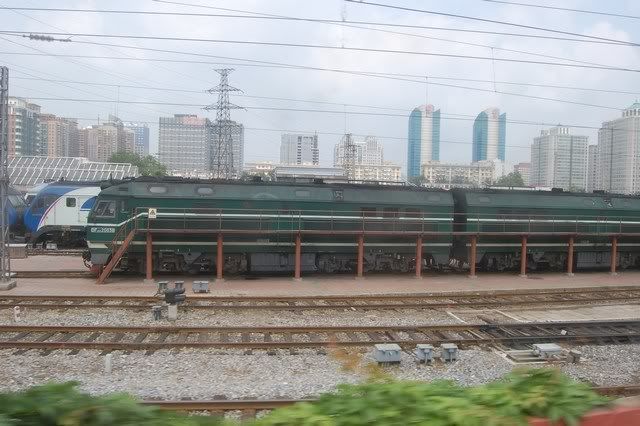 There was also a hydraulic. i have not had a chance to find out which one yet!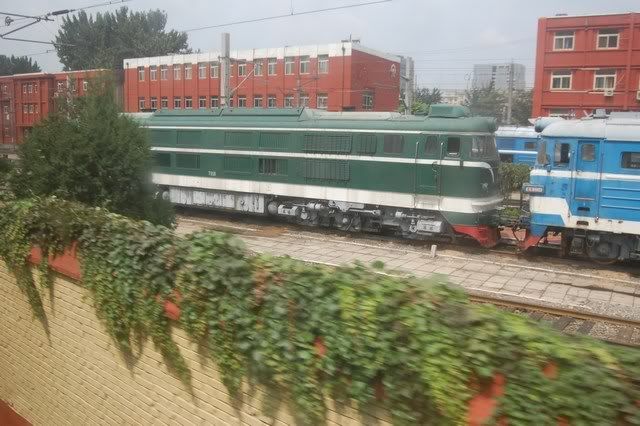 its very late now and i am tired so the pictures from the museum and any corrections will have to wait untill tomorrow.
Goodnight
Peter