We still haven't got the next series of Doctor Who yet. In Australia we tend to be about a year or two behind telly wise. I was looking for ward to seeing David Tennant as Doctor Who but still no hint of when we are going to get it.
QUOTE So what other kind of a loco should the BBC use for a Doctor Who show in parallel universe? How about the APT?
Some of the German streamlined locos from Epoch2 are dead certs for Doctor Who. They are pretty sinister looking things. Like this BR03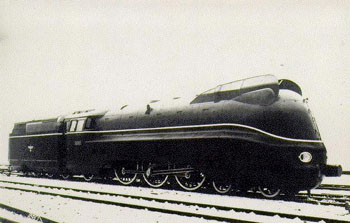 You can almost imagine the Cybermen stoking the fire.
It does look a bit like a spaceship with wheels.