Discussion Starter
·
#1
·
A new start and a new plan.
So Ablingham has gone and I start to formulate thoughts, and those thoughts spawn more thoughts and from that, an idea. It needs to be something with an interesting sideline, or atleast one that adds operability and eases boredom. So I am going for a terminus, well sort of, a double ended terminus if that makes sense. I didn't particularly like the idea of no through trains, but space would be limited in a way, so any through trains would have to be short. I still want express trains though and what about freight, I have so many locos that freight really has to be there somewhere. So a branch line at one end joining a 'mainline' then a small yard to turn the freight round and a small station to go with it. Then a line along to the main station, but at the far end of the main station a single track to a small fiddle yard.
So to the drawing, its not exact yet, but the basis is there.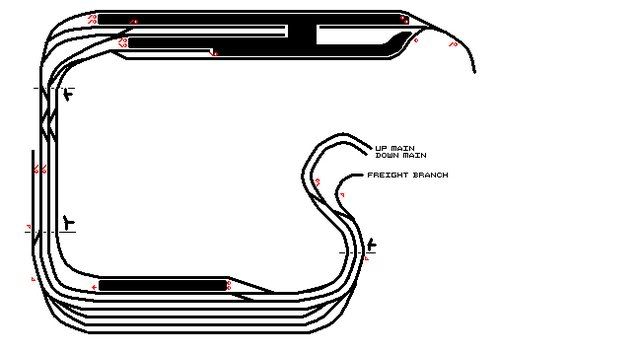 The Location.
I looked at my fleet of trains to gauge a new location. I have stock from all over the country now, 319s and networkers in the south east, a 170, 159 and 166 from south west London, but nothing there with common ground and running the same trains back and forward could be worse than what I had (for me atleast). I don't have much stock for wales and the Midlands either, so that leaves another Northern England layout or Scotland. well I do have some Strathclyde PTE units and a couple of other Scottish units. But I'm not sure about a fully scottish layout, as soon as you say scottish, their is an image that hits everyones minds, even if it is not the same image! So northern then? Well no, not exactly, I have a location mind, one that could be different if a railway had been there for a while, Peebles. Its far enough south to allow Northern units to run regular services and still close enough to Glasgow to give SPTE units a run (if they can be seen in Edinburgh and Newcastle, they can be seen in Peebles!).
The services.
The Northern units head East from Peebles through Glentress (the small(ish) station) and across to Galashiels, which is on the former Waverley route, then south to Hawick. At Hawick the line seperates, there is a line to Carlisle and a line to Newcastle. The Carlisle route pre-existed in real life, so no make believe there, but no railway to my knowledge crosses the National Park to get to Newcastle, so a bit of make believe there, but it does now run to the 'borders' line between Haydon Bridge and Hexham. With Newcastle-Carlisle services being hourly all day its difficult to justify a busier shedule than that, so bi-hourly to Newcastle and Carlisle with a few extra 'peak' trains.
The Scottish units will depart north west towards Fauldhouse and Shotts then join existing lines to Glasgow. there won't be much room to see these units if thats all they do, so, using existing prototypes I plan a service or two from Newcastle to Glasgow and back. In the real world they go to Carlisle under Northerns banner then north to Glasgow under Scotrails banner, but I have diverted some for my own ends. Otherwise another bi-hourly service with extra 'peak' trains.
Peebles won't be electrified, so West coast expresses wouldn't work, but GNER have HSTs, so it should be okay for a couple of services, and Cross Country is fairly easy to work in, so there a good diet. I was thinking a monirng GNER service from Leeds, departing to the capital afterwards and then the evening return workings, with Cross Country serving Peebles every other hour, or two.
Freight might seem limited and I suppose it is, but engineers wagons should provide some supply and the branch could support an industry, maybe a coal power station and a wagon repair depot or something like that (or even a coal mine, but I imagine that would have close long ago anyway!)
The test.
I made a test section to see how feasible the plan is, although the main station will have to wait for earth works (the removal of ballast!), Glentress gets a quick look.....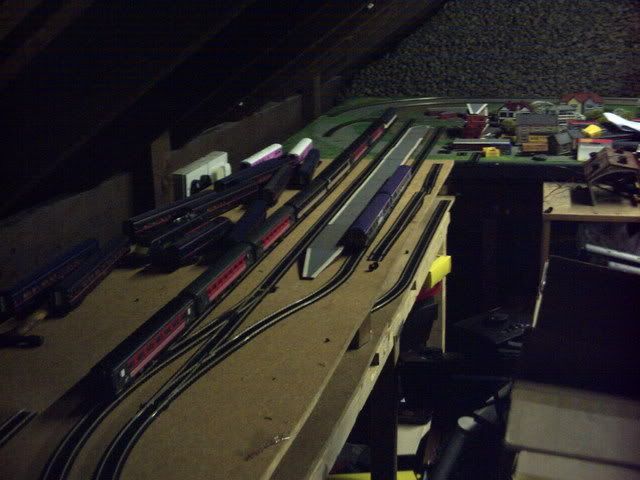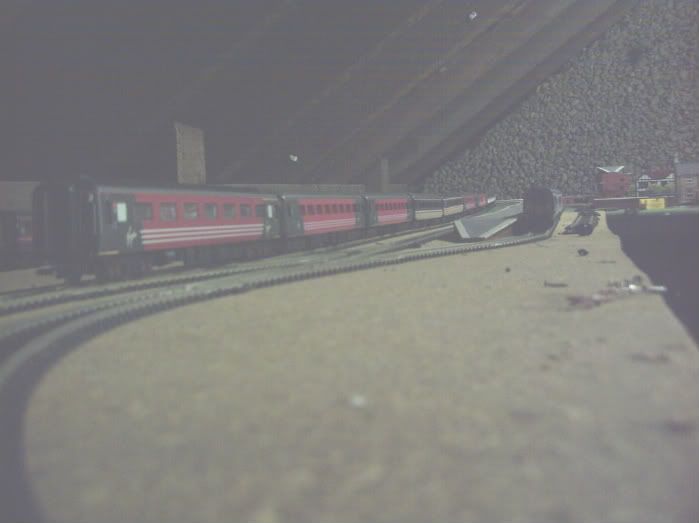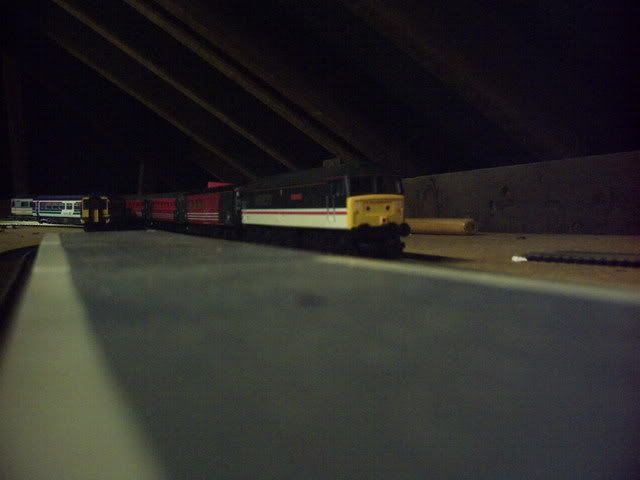 Any comments, good or bad (but not too bad!) welcome.