I got myself the pair of these. I know that they are sold as CCT but that was a BR appellation.
LMS did have a van called CCT but that looks quite different. Parkside have a kit of it and that is in my to do box.
This model is quite good out of the box but it does lack for brake gear detail. In my mind I compared it to the GWR Horsebox from last year ( or was it the year before?) which had superb underframe detailing.
I suppose this is yet another example of "design clever".
I did wonder at the bauxite livery since most NPCS vehicles tended to be maroon.
However, I did find a picture of one in LMS Journal 20 with a caption by the photographer in 1938, stating the colour was, in fact, bauxite (or undercoat).
Another thing I found annoying was the wobbly wheels although the model runs OK. I'm going to guess that this "feature" is to allow this long wheelbase van to negotiate tight curves.
So, the first thing I did was strip the van down: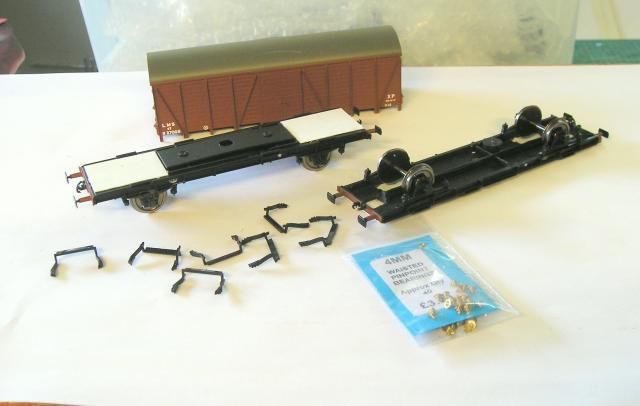 The brakes came out easily. These needed to be drilled to accept a tie bar (should really be a yoke, but that's too much of a fiddle), and reinstalled to be in line with the tyres for EM.
The wheels are quite fine - to the extent that they are suitable for EM as is. Only one wheel on each axle is insulated, the other is a VERY tight uninsulated fit and I needed a wheel puller to get it off.
I opened out the plastic pinpoints with my "Truck Tuner" (
http://www.micromark.com/HO-Truck-Tuner,8241.html
). I find this very useful and it will work on brass bearings as well.
Following this I installed waisted bearings and secured with cyano. I found that the bearing flange had to be filed flush since the wheel hubs are very close to the axleboxes. I probably should have thinned these.
So, to cut a long story short, the brake gear and rigging was produced from brass wire and various bits from Mainly Trains brake gear etches. There are some brilliant works drawings reproduced in LMS Journal 31 showing the arrangement of brakes for 4 and 6 wheeled stock.
Here's what I ended up with: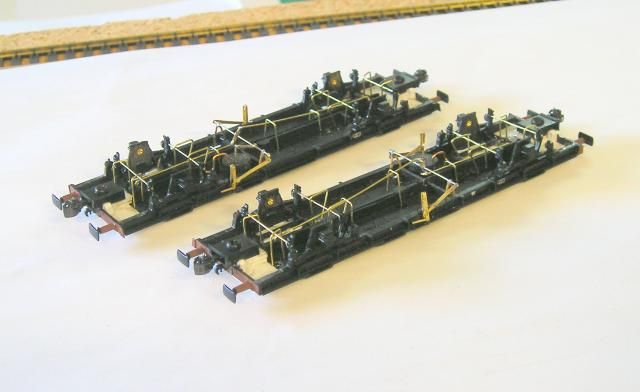 Note the safety loops. Couplings are scale head Kadee - I think the NEM pockets are too big and obtrusive. Note I cut off the trip pin since I uncouple with cocktail sticks.
Finally after paint and weathering we have this:

Note that, besides the vacuum brake pipe there should also be a through steam pipe.
I'm really happy with the way this came out.
John