QUOTE (Anthony James @ 26 Sep 2008, 04:09)
<{POST_SNAPBACK}>
Hi Guys,
I have spoken to Richard at lenght about the problem with the BR45, I checked the voltage on my Lenx LZV100 and made CV50 what was needed to bring the voltage down to 14v but nothing changed so far. I also ran my BR05 the same as yours Neil, this is a brand new model and was even worse than the BR45, trouble just going up the 2% grade, it also has a very annoying short between the tender and the Loco where the wires sometimes get bent.
I will try this weekend to superglue up the drive on the BR45 with some locktight and see what happens, I have been told that this certainly works for the Wien Liliput models and was a known problem, when done it should pull 20 or so wagons which would suit me fine. I think that I will not be buying Liliput ever again, however the SVT137 railcar that I have straight out of the box worked fine.
Back soon with the continueing saga
Regards
Anthony
Hi Anthony,
This is my beast, with replacement motor and smoke unit, impressive in looks and performance to match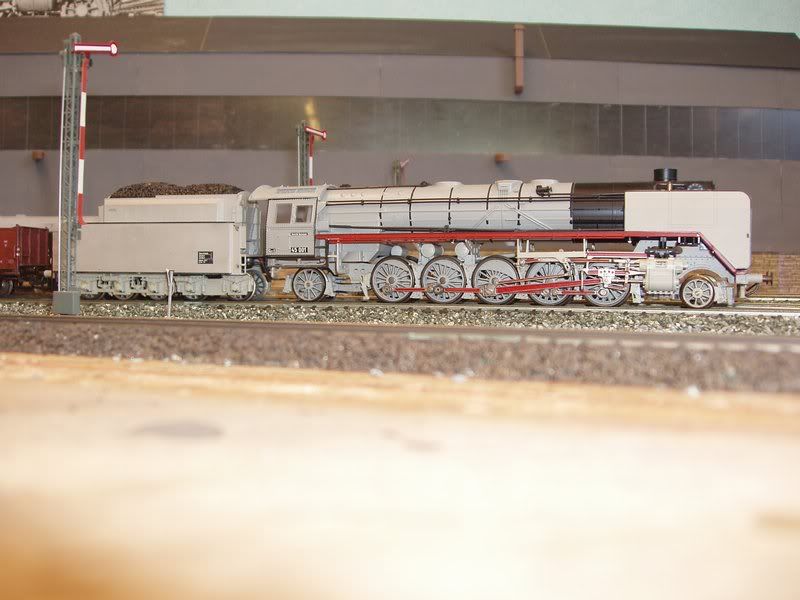 In DRG Epoche II exworks photographic grey paintwork, (This model is of 1970s manufacture).
Enjoy your model
David