Discussion Starter
·
#1
·
One of the the things I do dislike is painting the models I build. Usually I muddle through as most of the locs I paint are black be usually American steam or NSWGR steam. But since I switched back to British steam this means colours other than black. Well I picked up my new compressor at the week end and despite the foul conditions of rain and 15degrees C I decided to paint the tender of the BR/LNER A-2 I'm building. Now this kit was not the smooth sailing I normally expect from DJH. It has no bearings was the first clue. being an older kit all it has are holes in the frames which aren't terribly good as bearing surfaces. The motor /gearbox was delayed , seems Mashima are having trouble meeting the EU no lead policy in their motors and are slow filling orders. Then when I got the bearings and brass buffers and the motor/gearbox turned up I chuffed along putting it together.When I came to test running the chassis a small problem arose that of something smelling hot. Alas to late the motor made a rapid whirring sound and forward progress stopped. Upon investigation I discovered that the first turn of the plastic worm had split and destroyed the the second plastic gear and its pinnion. Somewaht dejected I emailed DJH and the lovely lady there said they would replace the parts asap. So I decided to press on and assemble the valve gear but alas no cross heads. Searched again and again but no cross heads. On to DJH again and again a prompt response parts on their way asap. Couldn't wish for better service.
But back to painting as construction was stalled pending arrival of parts I painted the tender.
You be the judge but I think it's far, far, far from BR Brunswick green, more like malachite green to me.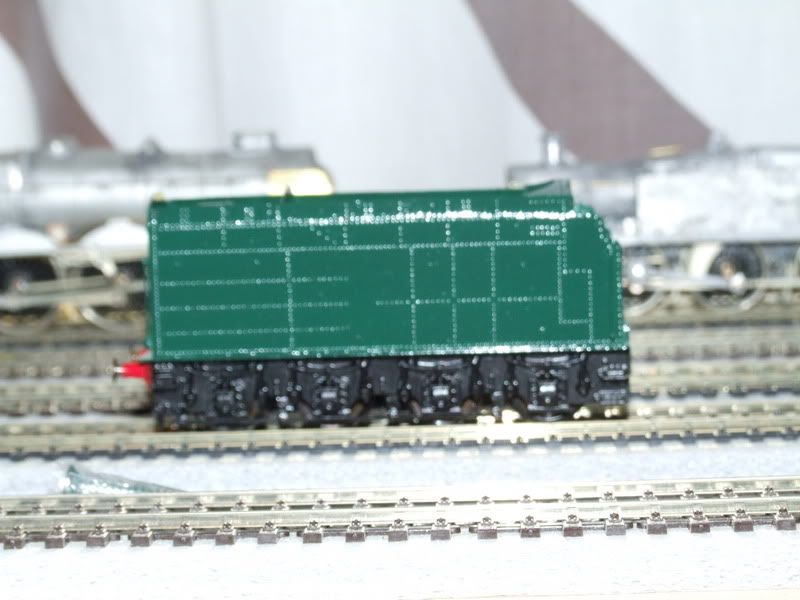 yeuch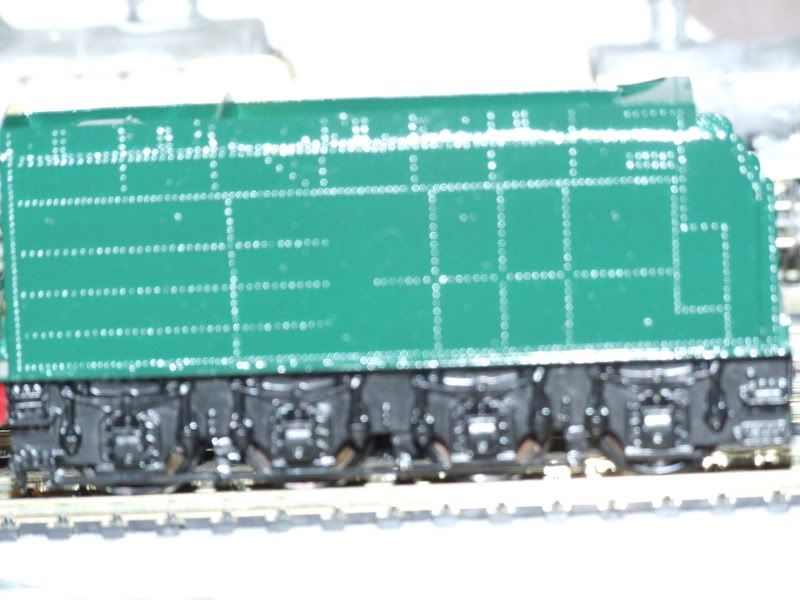 Up close it looks worse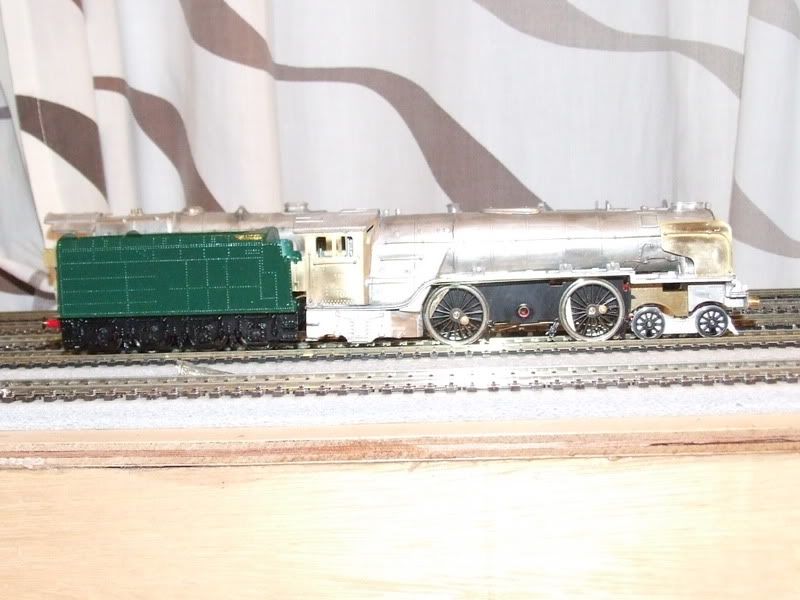 Loco and tender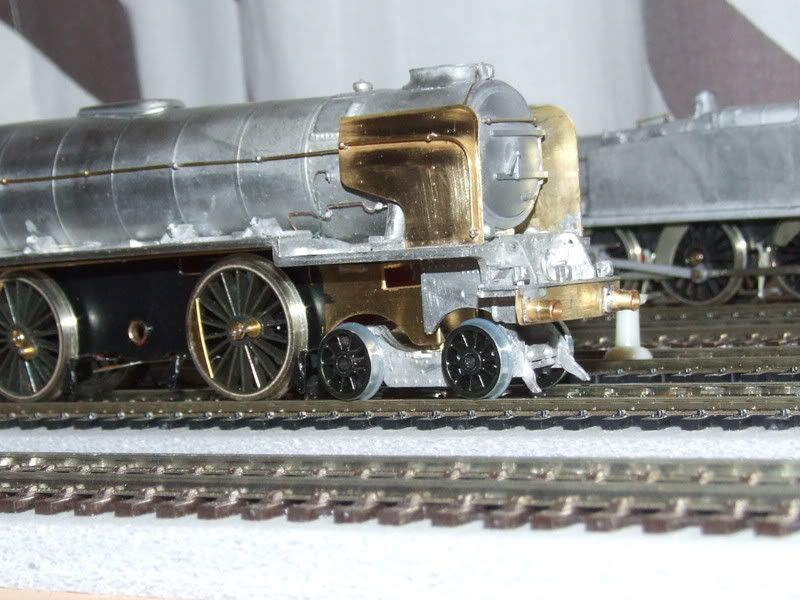 Loco front end
But on a happier note the Comet rebuilt Royal Scot is a runner with a some more work to do on the pony truck as it's not a happy camper on curves.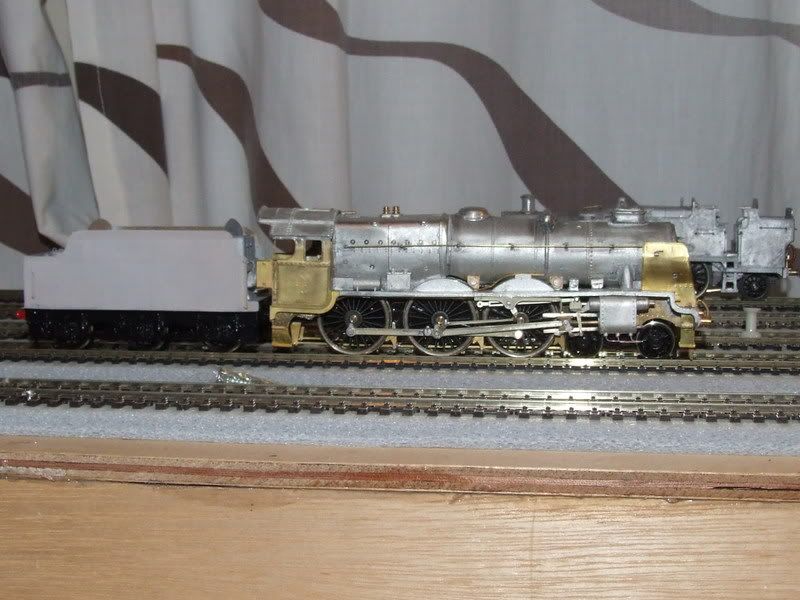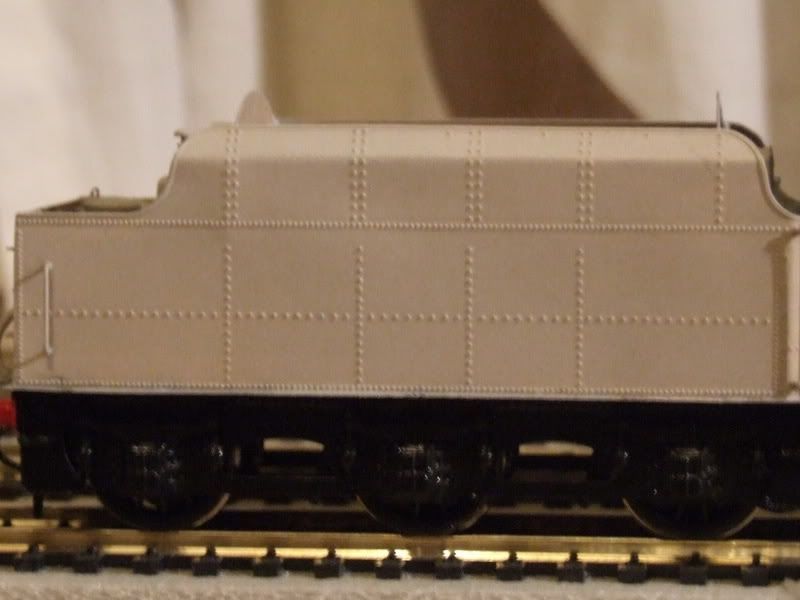 Stanier 400gal tender looks nice in primer gray.
The SE Finecast 61XX I was building is having a heart transplant. The Branchline gearbox is a little noisy so I'm awaiting a Romford one. I think I'll paint this one black..
Ozzie21