Hi,
I am confused regarding the Bus systems people use. I have looked at a few other threads and its confused me more.
Anyway. if I explain what I think a bus system is then could anybody enlighten me as to weather or not I am correct?.........
Basically cable running every couple of metres soldered to the edge of each rail and constantly going around the track, starting from track source? I did a search on the net for bus kits and one DCC kit I saw involved crimps and all sorts of stuff, not what I expected.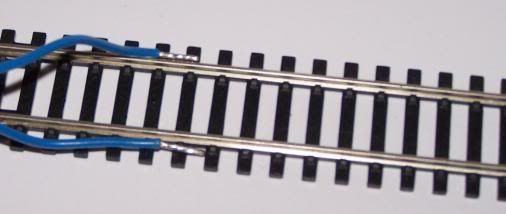 (wires in photo not soldered to track - just placed for photo reference)
The wire I am using is the same specification that comes with DCC sets. I have stripped the ends of the cable to approx 10mm and tinned them to stop them spraying out.
Any help will be greatfully appreciated.