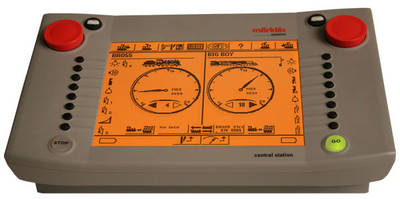 Looking at the the Märklin® Central Station® joy and grief are very close together. At the presentation this unit was the most advanced digital controller of the World and a consistent, courageous step of Märklin® and its development partner ESU. Nobody knew if the model railroaders would accept a graphical user interface with a large LCD screen and a touch panel for data input.
But these were enthusiastic about the concept and enjoyed on a hitherto unknown game comfort. Talking loco names and icons, an almost unlimited number of locomotives, which got automatically registered by mfx® decoder or graphical icons for magnetic items are standard today, but were actually only with the Central Station® introduced.
Obstacles in the way
Because the Central Station® is basically a small computer, the system lives of subsequent updates. Many functions of the new world were initially not yet finished and should be retrofitted. This was not the case and the Central Station® owners asked themselves frustrated what are the reasons for this compulsive break. ESU showed afterwards with the ECoS how to continue developing the successful Central Station® concept for the purposes of the customers and showed the public new, inovative ideas. After one finally made the upgrade to version 2.0.4. the development of the Central Station® no longer be pursued.
New routes
ESU was not able to change the undue state for the customers in the past, but here is the most important message:
The development of the Central Station® 60212 is ensured by ESU. Nobody is forced to write off its investment and to buy new equipment.
On the contrary: According to our philosophy, revalue available devices by new functions, we may explain to you here our imagination for the future of the Central Station®.
Further information
here.
That screen looks terribly familiar. I can't quite place it though.