Discussion Starter
·
#1
·
Hi everyone,
I'm making a return to the hobby after several years away - the remnants of my last aborted layout exist only in my signature.
I've wanted to return for some time, but haven't been settled in one place so having a layout would have been difficult. I'm a music teacher and have to set a room aside in the house as a music room - so I've finally decided that it can double as a layout room.
I built a layout previously that I christened 'Aslanvale' because it lived in a wardrobe when not in use, and I'm returning to this concept. There's a double wardrobe in the music room that will accommodate a 90x175cm baseboard, and because there's no bed in the room it will go in and out quite easily.
I was modelling in OO last time because I love sound locos, but I would have been very, very limited in my space available so have moved back to N gauge. It's fantastic to see DCC sound starting to make real progress in N.
My rules:
Solid baseboard with no joins - I always seem to have major issues when I use multiple baseboards for a modular layout and N just doesn't have the tolerance.
Weight - I need to keep the layout manoeuvrable and manageable, so the baseboard will be as light as possible - quite possibly using foam.
DCC - I can't ever see myself returning to DC if I'm honest.
Prototype practice - erm, or lack of it. I'm building this layout to run some trains, enjoy some sound locos and build some nice scenery. I like bridges and have always wanted to construct a model river. Aslanvale will be in the UK, but other than that very little will be off limits.
I started by looking at some SeTrack plans to keep things simple - plus these plans are often designed for little space. However, I had real concerns over using insulfrog points with DCC and these were confirmed with a post on this forum. Last time I was in N, I built the whole thing in code 55 flexitrack with livefrog points and tortoise point motors. I worked very well, but I had constant issues with track moving (particularly on curves) when it was coming in and out of the wardrobe. I want the simplicity of SeTrack with more reliable running - so I've settled on Kato Unitrack. I know that some have concerns over how realistic it looks, but I've seen some fantastic layouts that use it very well. Cost is an issues, but if I'm going to do something I may as well do it properly. If I was going to use slow-action point motors again anyway, the costs pretty much balance out.
Having decided on Kato, I started looking at what others have done and found this demo layout:
I have to say, this plan massively appeals to me and I'm pretty sure it's near identical in size to my board. I know it's not intended for UK practice - but I think it will make a nice start. It has the scenic elements I'm after, a decent run, doesn't look too much like a trainset and some operating potential in a small space.
I jumped on RailModeller Pro (which certainly didn't used to be £29.99 and used to be a lot more user friendly!) and knocked this up after much trial and error (bear in mind I didn't know the actual layout size!)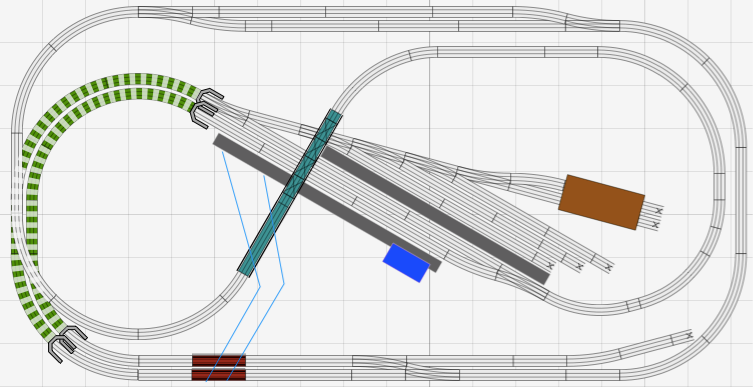 I'd welcome thoughts on the plan and concept - it's nice to be back here in any shape or form!
Dan