Discussion Starter
·
#1
·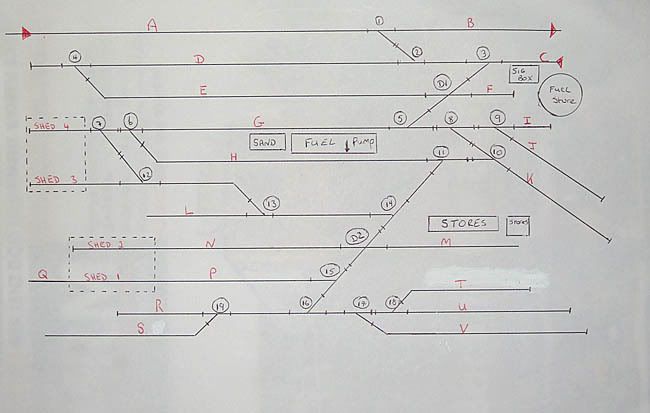 Layout Name Rimenough MPD
Scale/Gauge 00
Size length = 10 ft scenic + 6 Ft fiddle
or 10 ft " + 6 + 2 ft fiddle(s)
Width 2 ft (boards), operating width about 5 ft for traverser and to fit my belly in!!!
height Normally 50 in from ground, but due to "top tip" about Aldi "Extendable
Work station tool" now variable from 30 -50+
Exhibition layout, or stay-at-home?
Bit of both. Built for use at home, which it is, but also quite portable and thus able to do shows, depending on dates.
End to end
Ear 2000- present day, targeting 2002-5
Region - Western-ish EWs with visits.
Whether you would like to be included in the layout register - Yes.
End to end EWS (ex steam shed site) MPD, small modern 4 road shed, the main purpose of which is to maintain and supply 37's for a top n tailed 3 coach (mix of Arriva mk2 and virgin mk2) trains loosely based on Rhymney service.
There is a single track main line at the rear of the layout that sees 153(*) + 158 DMU passing, while the holding road off this can be occupied by:
the top & tailed passenger working, usually pairs of 37 but with the Large logo 37 being paired with a 50 on Saturdays.
EWS hospitality train
67 on 4 coach PCV Mail train
DRS double headed class 20 or 47+37 on flasks
FL 66,90& 57 (*) on way to open day somewhere
66 Top & tailed on short 3 coach Test train
67,37 or 66 top & tailed on snowplough testing
Stock movement on the layout is limited. A fragonset 31, Cotswold 47 or Virgin 57 (*) sometimes visit light engine or with the EWS observation saloon.
Fuel via 2-3 TTA is braught in by 60 or 66 usually, though 67 or 33(**) can also be on this job. There is sometime a stores van that comes with the fuel that contains spares, things like more toilet roll!
08/09 then does a bit of shunting
There is also a water tower left over from the shed's time as steam shed. The odd mainline ticketed kettle visits for water between charter duties, even Thomas pops along now and again!
All Locos are Sound chip fitted (with the exception of the FL 90 which is the only non sound loco allowed on the layout) currently there are class
08/09 (x2),
20 (x2),
31(x1),
33(x1),
37(x12, more to be added with the new Bachmann 37 in 2007),
47(x2),
50(x1),
60(x1+ 1 in works)
66(x5),
67(x5)
with 158(x2),153(x1),57(x2) awaiting SWd chips hopefully this year.
(*) Awaiting SWd version of sound chip
(**) Class 33 awaiting re-vamped Dcc supplies sound chip
Hopefully a rough track plan of my layout is attached?
I`ll descibe the basic operation and you can then tell me which bits are ok, possible and rubbish!
Movement 1
DMU enters layout (10x 2 ft) via track C off fiddle yard traversa (6ft conected to track C +
and crossed over points 1&2 to exit layout via track A or it stops, then exits layout via track B.
Same for light engine.
Movement 2
Top and tailed 3 coach train enters from fiddle yard over track C runs into Track D. It later then returns to fiddle yard the same way it came in.
Movement 3
Frieght train enters from fiddle yard via track C and runs into track D, stopping between points (4) and (20). It the runs round via point (4) onto track E then crosses to onto F. Stops, then backs onto the rear of the train on track D via points (21)+(20)
Movement 4
Light engine comes onto layout via track C enters Depot via point (3) and runs onto track G . From here it can either run onto Track H which is the re-fueling road and then it can be stabled on the depot somewhere, or if it does not need fuel / sand it can enter the depiot via track K or use point (7) to enter the depot.
Movement5
Fuel train.
Loco and occasionaly a stores van (when Bachman bring it out!) plus 2-3 TTA enter layout via track C and moves onto track G. It then backs the TTa into the tank road, track J and then backs the stores van onto track K. The stroes van is picked up by the depot 08 and moved to the stroes road, track M. The loco goes for fuel if needed or just finds a road to wait in.
To leave, the 08 take the stores van and TTa's onto track G where a loco attaches to the front and then leaves via point (5)+ (D1)+ (3) onto track C and fiddle yard.
There is a lot of track on my layout, but it was initially designed for use at home, and this is where it is used most weeks. I can quite understand someone saying there is too much track squeezed onto the boards, but then I like to see empty tacks! Sometimes they are full granted, but as all Locos have sound not everything is running.
Track S is supposed to be access for road transport
Track Q is an old inspection pit at the back of Shed road 1, the idea being it was left over from the sheds steam days, just incase its needed.
Track R is a small holding road that sometimes one of two snowploughs occupies.
Tracks T,U,V are holding roads, perhaps for locos that dont move much.
Track M is either used for a loco to sit in, or on the odd accasion a stores van enters the depot this is where the toilet roll is unloaded!
Track H is the fuel and sand road, locos can enter and exit from either direction though only one can re-fuel at a time, a second loco can sit in the road awaiting its turn.
Track J is where 2-3 TTA unload.
Track I is a short road, just long enough for 1 TTa or the 08 to wait in.
So whats missing (catch points) whats rubbish ( i dont mind you saying everthing ) whats nearly there and what seems ok?