Well, Scaleforum 2007 has come and gone and it seemed to me to be quite a good exhibition. i went on both days and generally had a good time.
Transport - saturday was not a problem. a simple trip on the tube to waterloo then a train straight through to Leatherhead. the victoria line was closed which was a bit of a pain and the trains to leatherhead do tend to stop at evry station, halt, trestle table. but i arrived saftly and in a fairly timely manner.
Sunday was another story. acording to SWT there were engineering works which stopped trains at the rasecourse. strangely southern didnt know anything about engineering works so i just swapped to one of their trains and continued on my journey rather than getting on the replacement bus service. apart from the usual overcrowding of the northern line, the journeys home were both uneventfull. - 8/10
Building - the Scaleforum (and formerly the leatherhead show) is simply too large to fit in the venue. it needed a hall twice the size to acomodate it. this ment that the isles were too narrow and overcrowding was a real problem on saturday (much less so on sunday). it has to be said though that the building and the toilets wwere both nice and clean. one thing that really got on my nerves was the bloddy tannoy system. evry time you started talking to someone there would be another announcement. -There is a lecture comming up.... we have found a mobile phone..... we would like to thank mr gibson for his service.... has anyone lost a fart?.... - 6/10
Layouts - as can be expected at scaleforum the layouts were first class in their detail. for some reason there was nothing there this year that really made me go "WOW". my normal criticism of finescale is that there is just not enough movement. this really didnt seem to be the case this year with only one layout suffering from the "7 operators all hard at work controlling 1 shunter" syndrome. for me the star of the show was Mike Sharmans layout. i understand its not to evryones taste, and lets face it, its really just a test track to show off his loco collection and it has to be said it was looking a little tatty. but it was a plesure to see a layout that had so much character. there are far too few modellers of this period, and thats something i find a real shame. My other criticism of the show this year is that there were just too few layouts. Someone said there was actually a couple more this year but i really didnt think so. mabye there were a couple more in number but it didnt seem like it. - 8/10
Shirts - This year the weekend was much cooler than in past years but the humidity was much higher and i'm afraid this show really suffers. i also dont think there is enough ventilation in the exhibition hall. Why oah why cant people wash their coat between June and September?? generally it was ok but there were a couple of eye-wateringly bad ones! - 3.5/10
Backpacks - Oah dear! the overcrowding on the saturday led to several back-pack-in-face incidents. the packs seemed smaller than usual (and didnt have the mass of the packs of previous years) but they were positioned higher up the purpertrators back for much better damage. the sunday was much better. - 3/10.
Trade support - Generally very good. saturday was a real scrum for the traders and many were looking very tired buy the end of the day. sunday must have come as a bit of a relief. the turnout and the mix was generally very good. i heard a couple of people complaining about the lack of DCC. i saw a couple of DCC stands but i would like to point out that it is a finescale exhibition and putting a decoder in a loco dosent make it finescale ir improve its apearence in any way. i think they are best left to the general shows. what i am starting to find a little disspointing is when you see traders that have been using the same cabinates since the year dot and still have the price tags and descriptions from a typewriter. there have been an alarming number of commings and goings in the trade recently and i suspect its these traders who wont last much longer. they really have to improve their packaging and the apearence of their products. at woing last year there was the 3SMR. i was amazed at their products. they were colourfull, they were well packaged, and above all, i could see what i was buying. I was quite interested in the David Geeen MR coach set. but it was in a lousey white box, sealed with a simple description on the lid. it was nicely priced but unless i can see what i am buying then there is no way i am handing over my money.
There were no real gaping gaps in the line up of traders, although branchlines was no there for "personal reasons". 8/10
Bagains - There were plenty to be had on the saturday but they were few and far between on sunday. i managed to pick up some comet coach sides for £2. i heard someone got an unbuilt W1 for about £30. but you had to be very quick. buy about 2pm there was really not alot left. sunday was a bit of a dead loss on this front.
Now for the pics. my camera held out for longer than normal but as usual i apologise for the poor pictures. i asure you its not me- it really is the camera!
Peter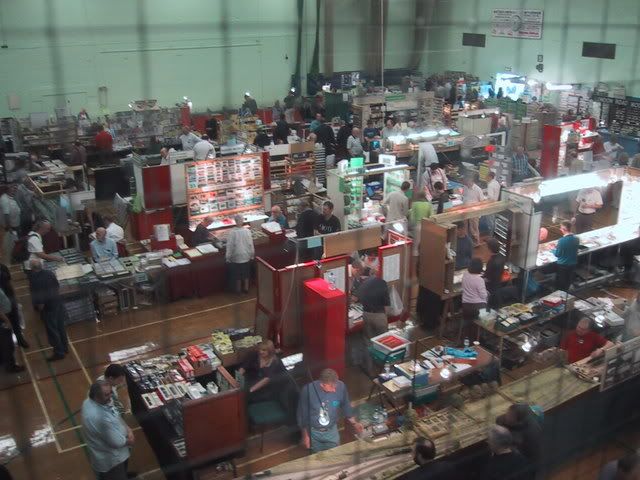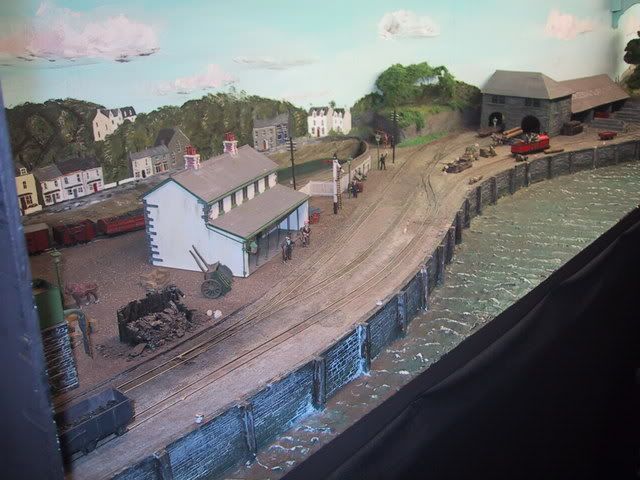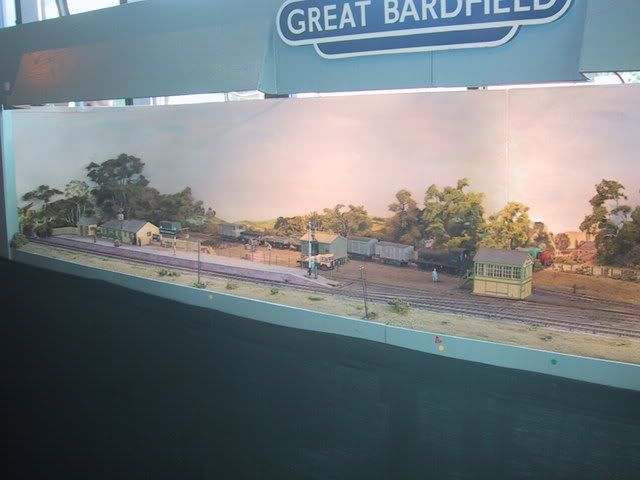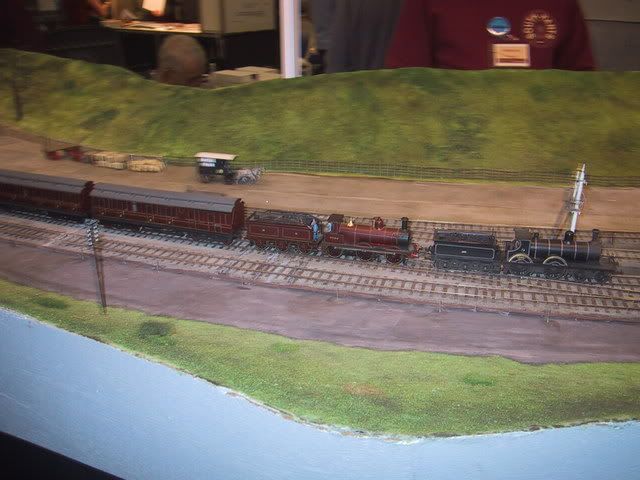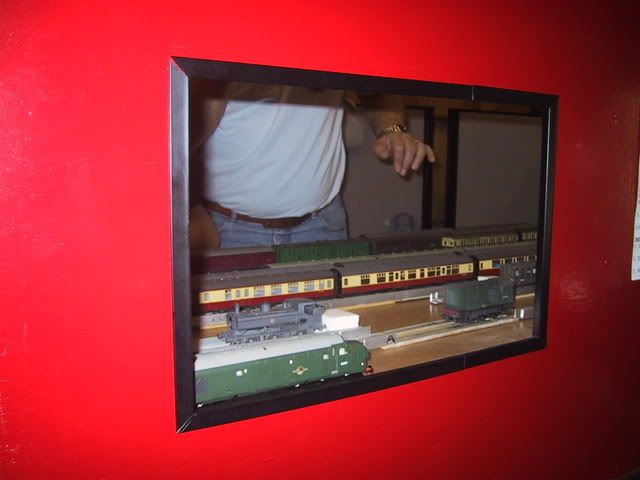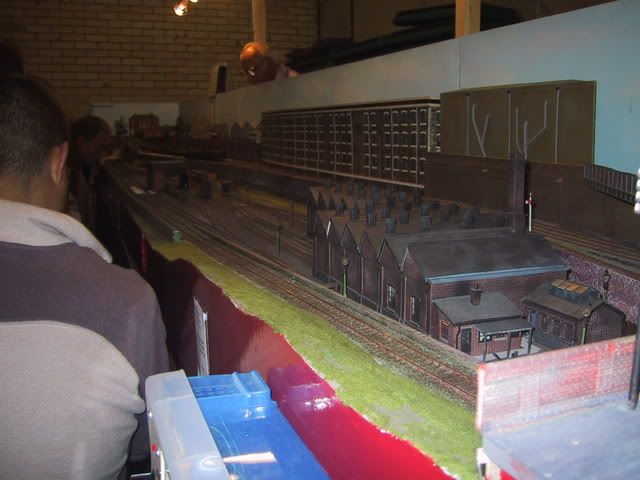 I am sorry for the abundance of pictures of Mike Sharmans layout but i had to bear in mind that this could well be the last time i ever see it given the age of the owners.