Discussion Starter
·
#1
·
Greetings people.
I haven't posted here in ages, so I thought it was about time. My good lady
Madkitten has been drilling modelling instructions into my head and I decided
to try something relatively simple for a first layout.
I thought it would be best if I didn't overstretch myself for a first serious attempt,
so I did a bit of research, and came up with perhaps the most basic station I
could find, The **** station in Sussex.
I also decided to try to model it as true to scale as I could (given the obvious
inaccuracy of oo gauge, and the fact that right now I'd rather tear out my own
arm at the shoulder and beat myself to death with the sticky end than attempt
to build my own track).
Accurate plans for The **** station are not easy to come by, and information
is also somewhat scarce, being limited it seems to one book by a Mr Harding,
and that is quite thin too. I did note that the platform was eventually extended
to slightly over 600ft in length, which equates to about 8ft in 4mm scale, (this
was going to be big!)
On the platform itself was one very basic building constructed of corrugated
iron, one small Saxby and Farmer signal box, and an old grounded coach
serving tea and cakes. I decided to construct the layout to reach the first
cutting, this meant it would be roughly 16ft long, which is certainly enough for
me!
The layout is to be formed of four 4x2ft boards made mainly from expanded
polystyrene for ease of landscaping (of which there is an elegant sufficiency at
The ****), from the highest point of the layout to the lowest would cover some
200mm, with half the station dug into a cutting at the very end of the line.
I did wonder initially what to construct the platform from and ended up using
three layers of foamcard faced with slaters brick plasticard and covered with
ordinary white emulsion mixed with sand to give a rough approximation of the
gravel surface used.
Since the line was closed in 1938, it will be modelled under the ownership of
the Southern Railway in the 1920's or thereabouts, I have already chosen a
bus to wait outside the station from Langley, a 1920's A.E.C. Railway Bus, this
is about half finished.
I will post pictures as I complete works, but for now here are some of the
original station plus some of my work so far.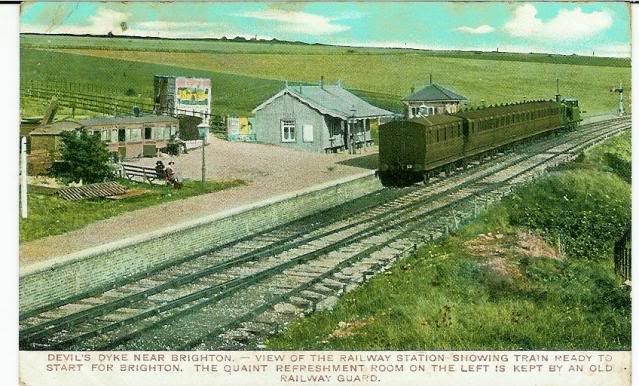 More will follow as and when.
I also need to find an appropriate engine and stock too. Hey Ho. More research for non existant items.
My heartfelt thanks go to my lady Madkitten for all her help and advice during
this project.