Hello all,
Part of my N scale layout is going to feature an Austrian bridge (based on the Pfaffenberg-Zwenbergbrücke) which is similar in size to this giant bridge that I came across on
Jernhesten
(highly recommended for Swiss modellers but written in Danish). I would estimate the bridge span at 14 coach lengths which at 1:160 scale is about 16.5 cm x 14 = 2.31 m!!
Picture from
Jernhesten
I have begun to design a bridge in Google SketchUp 6 (available free), although my bridge will have to be a bit smaller:
Picture from
Eurofima Prima!
But I wonder what is the best method of constructing the main span? By gradually bending plywood using water etc. or by using flexible plastic sheets or plasticard? It will be quite an engineering challenge...has anyone attempted such a scratch build? I would ask Jernhesten but my Danish is rather non-existent. Any advice would be most welcome...
And for those who doubt such bridges do actually exist: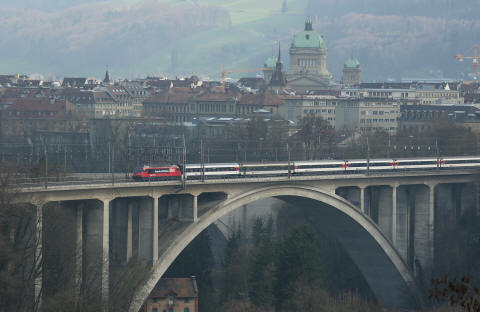 SBB Locomotive 460 093-8 with IC 835 Brig-Romanshorn
Bigger picture available
here
Goedel