Discussion Starter
·
#1
·
Hello,
I'd thought I'll post something about a new project I'm starting on which is in its early stages.
I was inspired by a video on Youtube of a Rh 2143 cab ride from St. Polten to St. Aegyd showing nice shunting work with some logging wagons. Since I have some OeBB diesels sitting around which are not used on an Austrian overhead electrified layout which I'm also working on I thought why not build a module(s) so I can run a module/layout with passenger and freight diesel locos.
St. Aegyd am Neuwalde being literally one stop away from the terminus station, St. Aegyd am Markt, of the Traisentalbahn I thought this could make an interesting Fremo end module.
I managed recently to obtain aerial/satellite images of St. Aegyd and re-scaled the images after a lot of stitching together on an image editing program (Inkscape) and saved the resulting "plan" in N scale. After this I printed out the image on A4 paper with a poster printing program.
The plan is 3m long, but this will be 2 modules each 1.5m long by 450mm wide. Due to the exit/entry of the station I will have to make an additional two adapter modules for both ends to be Fremo compliant with a width of 400mm with a single track.
You can see in the following photos of the individual pieces of paper laid out on the floor with some vehicles and wagons to get a 3D feel of the module.
The whole length of the station.
Logging industry part of the module.
Entry of the station from the direction of St. Polten; here there is a hardware store.
I'd spent last weekend putting together all the individual pieces of A4 paper together with some double sided tape so that the plan can be rolled up and unrolled as and when required for the moment. The following photos show the plan partially with EW 190 1:9 templates to make sure the points are the right size before ordering pcb boards of the points which will be hand layed with Code 40 rails. I also put two diesel Rh5047, which I recently won on Ebay at half the cost of RRP (both brand new), on to the plan again to get some feel in 3D.
Following photos are a bit foggy for some reason so apologies for the quality.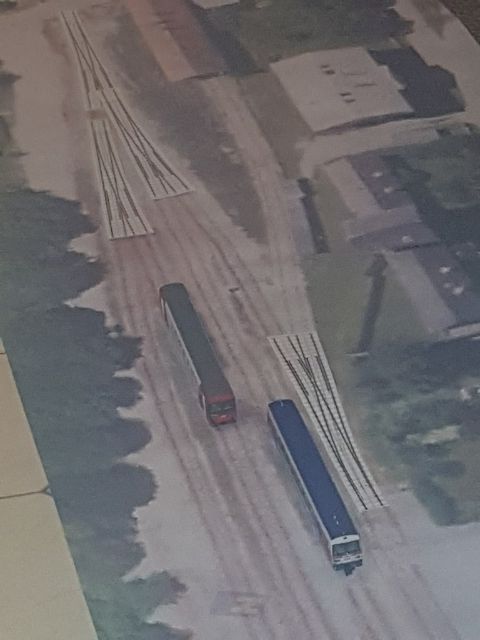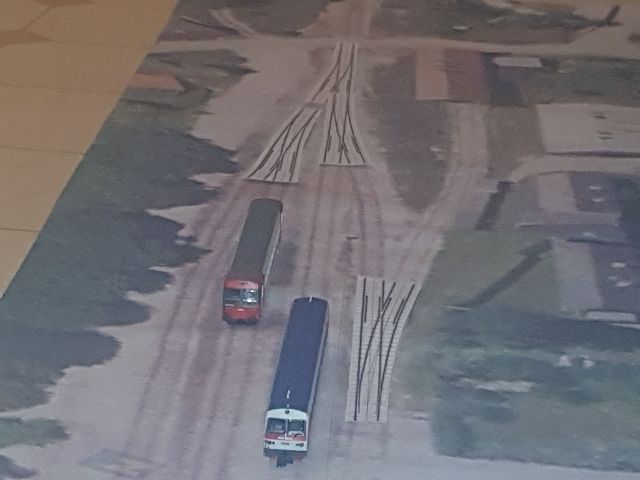 I'll add more info as this project progresses.
Cheers