Currently residing at Dragon's Edge, living on The Edge! 😀
QUOTE (Brian Considine @ 5 Feb 2013, 18:26)
<{POST_SNAPBACK}>
Hi Dave & welcome to MRF.
In your controller there will be a resistance mat & some brass/phospher bronze "wipers" - it may be possible to adjust the wipers but the mats also wear out.
Best option would, as Gavin says try ebay.
Don't forget to post some pictures.
The Tri-ang controllers used to be screwed together. Before H&S...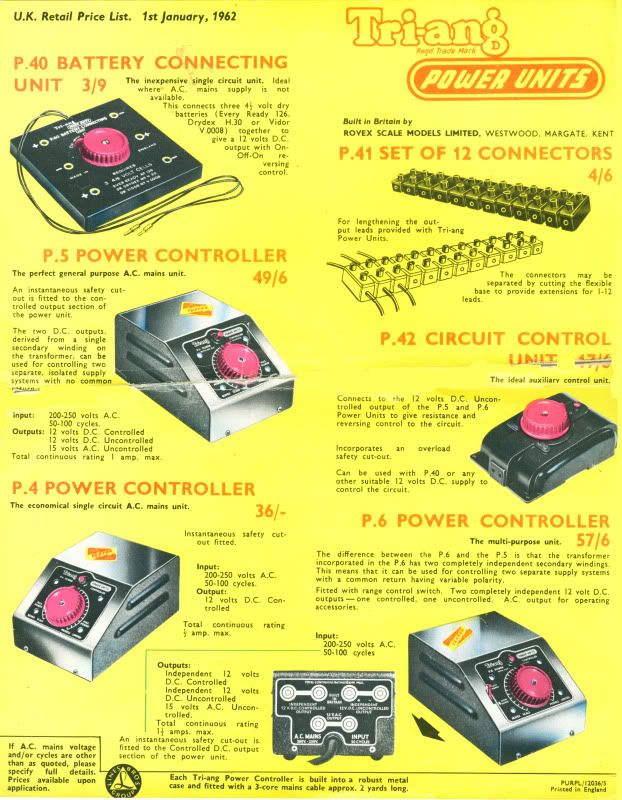 As Brian says, the parts do wear out, and they are no longer made new...
I did have two Tri-ang controllers, and took them both to bits, and made a good one from the best bits (NOT for the faint hearted, and I made sure to test for any escaping currents with a meter.)
One had been overheated so much that the encapsulating resin had boiled off and collected on the base plate!
The H & M Duette is pretty "bomb proof".
I see that you are using "Standard" track. Well done you.
This is not a common decision these days, as the supply of useable track is getting smaller.
I trust that you are aware that the earlier Cellulose Acetate track bases can distort, so losing the true gauge and alignment of the rails?
The post 1956 Standard track was made from Polystyrene Plastic, and is a far better bet.
It is also possible to replace the rails in Standard track with those from Series 3 track (the legths are the same), or even use the longer Super 4 straight rails on multiple Standard track bases, to cut down on rail joints. Super 4 curves are a different radius, but the rails can be modified to fit to Standard bases.
Are you aware of the Tri-ang Society, and the Train Collectors Society?
A "Standard Track" Layout Idea?