Hello all,
I just noticed from the news section on
1zu160
that the new
online direct shop
of Trix and Minitrix is now online and available in German and English.
You can buy H0, N and spare parts for both direct from Trix
, and there do seem to be some good deals, one can pay by credit card (amongst other methods for Germany etc.). Postage to Germany is good and to the UK is EUR 19.95 for however much you order. They seem to have a searchable database of spare parts and also some model diagrams/parts lists and will probably add more.
This is an interesting development and one wonders if Trix are investigating cutting out the middleman, so to speak, and selling directly to the public! The wonders of the Internet I suppose, although the range available in N at least doesn't quite include everything. Does anyone else have an opinion of the website??
I'm sure it can only be a good thing for the hobby, although I note that recently there have been issues with some UK suppliers complaining that they could not keep stock of Minitrix but would gladly order it in and said that Trix would have to cave in and revert to the old system - is this their answer? Direct sales to the public? Perhaps invertment bankers taking over is not always a bad thing...as long as quality is not compromised!!
I must say that my latest purchases of some "Alpine Transit" set wagons (from the 20 wagon set Minitrix 15645) ((not currently available directly)) were very good value for money, well packed with a protective plastic sheet, detailed and crisply printed, metal wagon body, close coupling etc. - so far no quality issues!!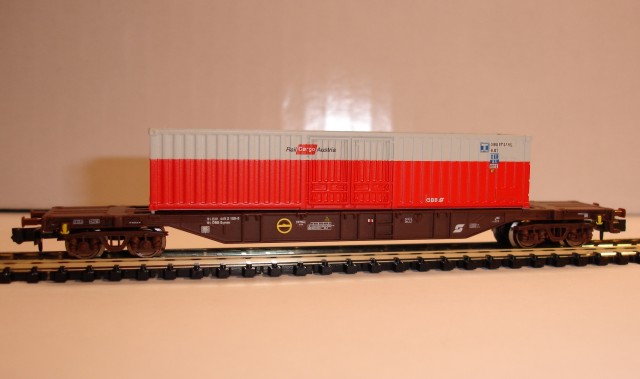 Minitrix 15645-01 ÖBB bogie RCA container wagon (I paid £13.50!)
Pictures of the whole set available here:
http://www.spur-n-schweiz.ch
Goedel