QUOTE (10001 @ 20 Dec 2009, 09:06)
<{POST_SNAPBACK}>
Hi We are still working on the video clips but at the moment it does not look very promising.
However in the making of the DVD of the Goon Valley Railway we took a number of still shots , and if anyone is interested here are a few of them.
The first is Hornby 46252 City of Leicester in the short-lived (on top link express engines) BR mixed traffic livery which is a favourite of mine . The old LNWR livery really looked good on these fine locomotives. I read recently that only this one and sister engine 46251 City of Nottingham were turned out so, but I have photographic proof that 46256 Sir William Stanier FRS was similarly treated.To me it always looked as though Crewe were thumbing their noses to Swindon.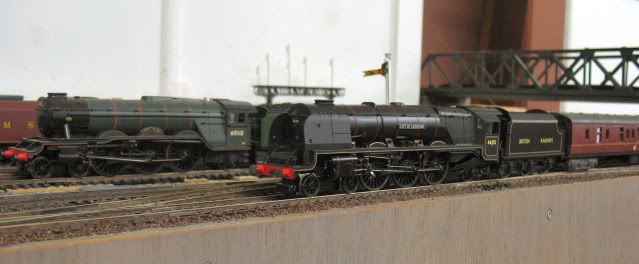 Next is Jubilee 5721 in plain wartime black( probably the commonest LMS livery when I was a spotter, Although even locos still in pre-war crimson looked black in those days). Impregnable is a real hybrid having an Airfix Royal Scot loco chassis , a mainline Jubilee body. and powered by an Airfix 4F fowler tender. It runs very well !!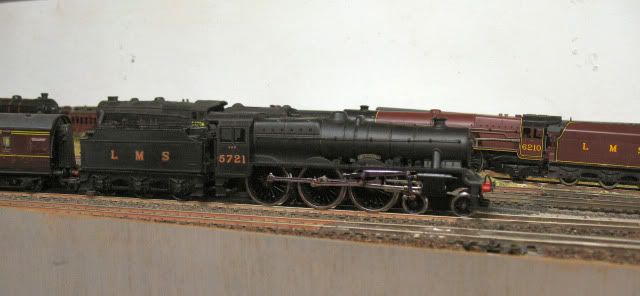 Next up is A3 60110 Robert the Devil, - a repaint and renamed Hornby loco still awaiting tender lining, built from spares.
It also shows an over view of Eccles Junction station.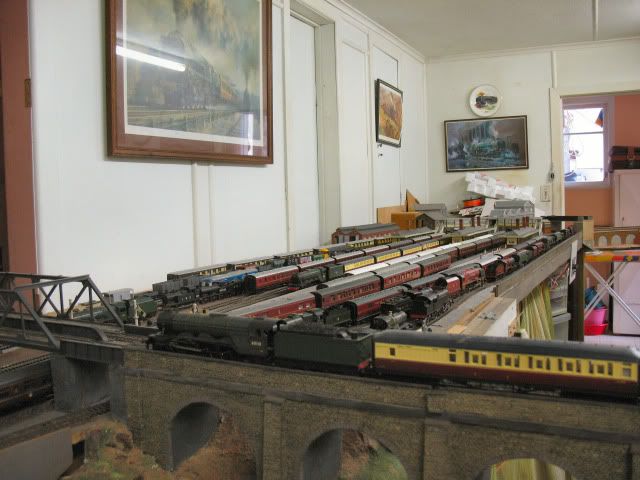 Then comes the Fat Controller ,not his usual good-looking self as he had just forgotten to switch the points resulting in an express
running into the rear of another express standing in Eccles Junction station. Fortunately there were no serious casualties.
Finally Jubilee 45609 Gilbert and Ellice Islands . This is my newest loco and is at the head of the up postal ,a 9 coach train made up of repainted old Tri-ang , Hornby Dublo , and more recent Hornby postal (TPO) coaches ,all having their original "working " pick-up gear removed and scratch built nets added, now looking slightly more authentic .
Merry Christmas and a happy New Year
Merry Christmas to you Sir and Thank you for showing us your layout. It looks like you're having fun but watch those signals.