I have trains of the Japanese National Railways (JNR) steam era:
My locos all from Micro Ace:
2 class C62 4-6-4 locos for express passenger train
1 class C51 4-6-2 loco for passenger train
1 class C63 2-6-2 loco for mixed train
1 class D60 2-8-4 loco for goods train
2 class D51 2-8-2 locos for goods train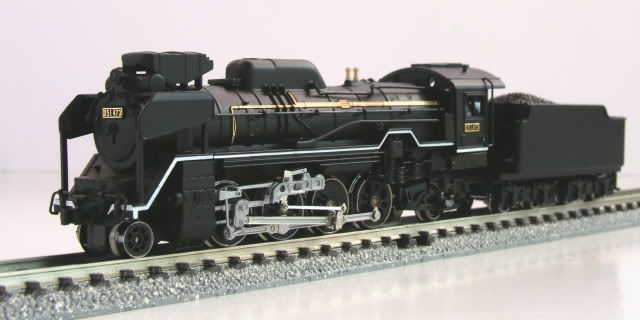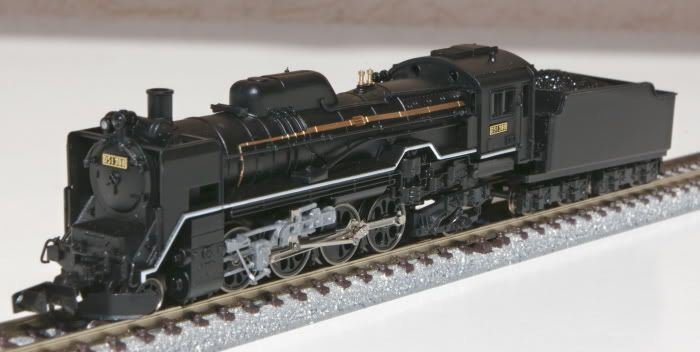 1 class DF91 CoCo diesel for mixed train
I have 2 express trains of 9 , one from Micro Ace and one from Kato
I have 1 passenger train of 6 coaches from Kato
More passenger trains will be covered by DMUs that have to be purchased as and when funds allow, so will take a while to come as I cant resist buying steam engines.
There are lots of freight wagons from Kawai.
And I have a working rotary to fight the snow.
Continued exposure to British railway models because of excessive consumation of internet forums and the high quality of photography in the Hornby magazin took its toll and the disease I fell victim to forced my into the purchase of a green Hymek from KMRC.
Kernow Model Rail Centre Limited Edition Hymek
Amazing model. To make matters worse Dapol showed an awe inspiring model of the B17 (I like the prototype) and I had to order one, too. It has not arrived but I already have the coaches to go with the locos, Dapol Collet for the Hymek and Dapol Gresley for the B17.
So future plans more ER and WR stuff:
Dapol Britannia, B1, Class 26
Dapol 38xx
Ixion Manor and Mogul
The Grafar class 42 looks tempting, too.
But of course it will depend on the quality of the B17. If this model arrives and is of similar quality to the Hymek and the coaches I really will start in British N scale.
Thomas