sorry for the delay in this report but i only got my pictures back on friday!
On april the 28th i went on a day trip to poland for the 150th aniversary of Wolsztyn shed.
This was my first real railtour since a rather unsavory incident and i really didnt know what to expect.
Part of the motive was as a reaserch trip to take photo's and measurements of some of the loco's.
We arrived at gatwick about 5.25 in the morning and made our way to the chartered aircraft that was waiting for us.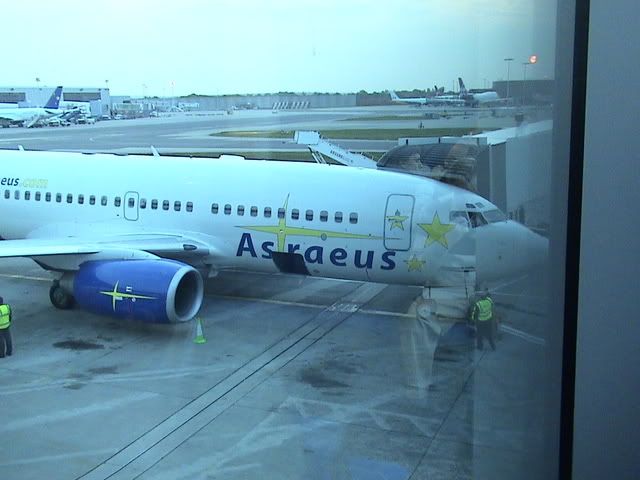 After a 90 minute flight we arrived at babbimost airport. we were the very first commercial jet to arive at the former russian bomber base and half the town had turned out to see the spectical of 150 brits comming all the way to poland for a day trip to see some choo choo trains!
the origional plan was for a train to meet us at the railhead at the airport but someone had stolen the rails (literally!!) so it was a short buss trip to Babbimost station where the GWR prarie and a train of polish/east german thunderboxes were waiting for us.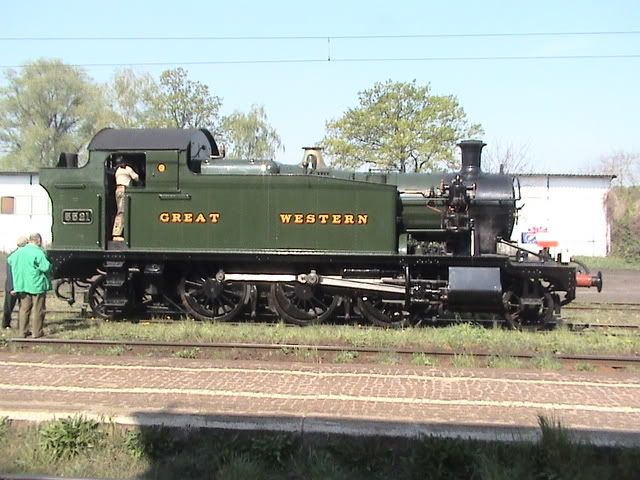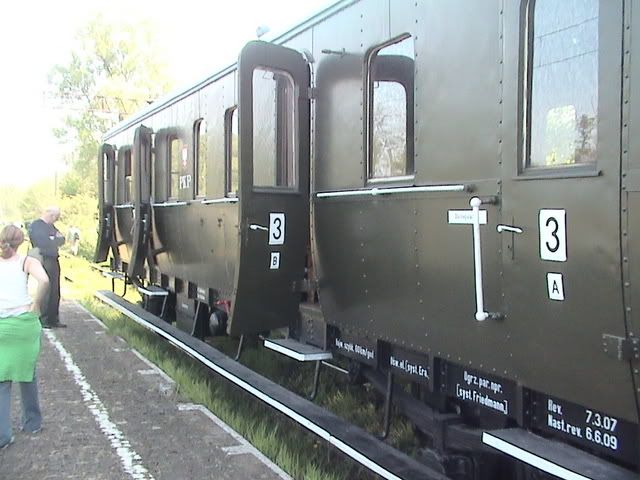 As we were waiting the german train was approaching. someone had had the great odea of stopping the entire german delegation so we could take a few pics of the 2 loco's side by side.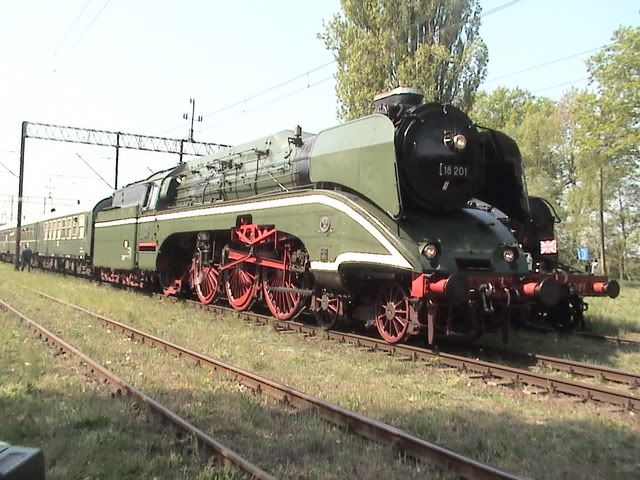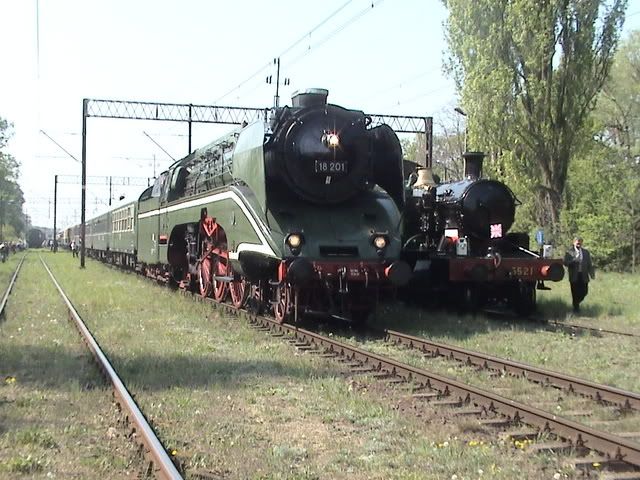 The thing that struck me the most about this was the noise. i had never been near a big oil burning loco before and it added something that no photo could have given me.
After the german loco had left we all piled on and made our way to Wolsztyn.
We clocked the prarie at 59.9 at one point but the picture didnt come out. this is the highest speed i have proof of.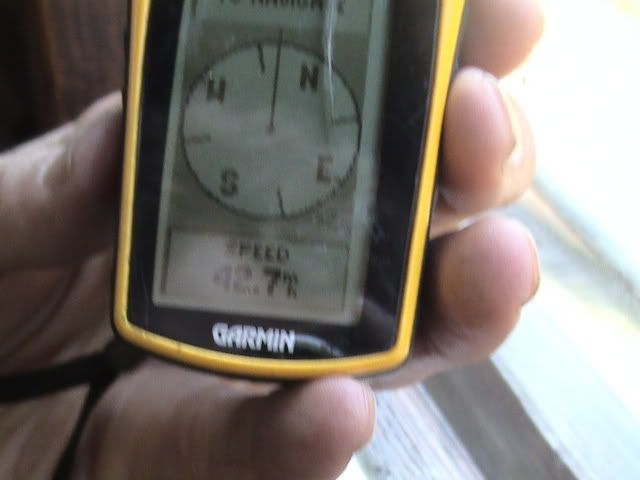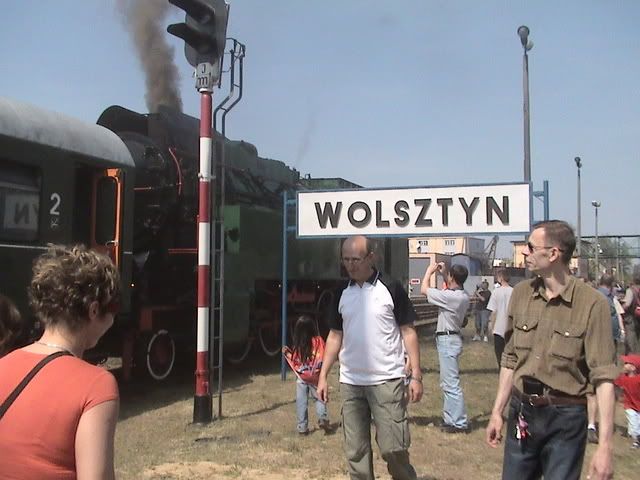 I had expected several hundred people there but i wasnt expecting several thousand. (i have seen estimates in the region of 10,000 but i think even that is conservative.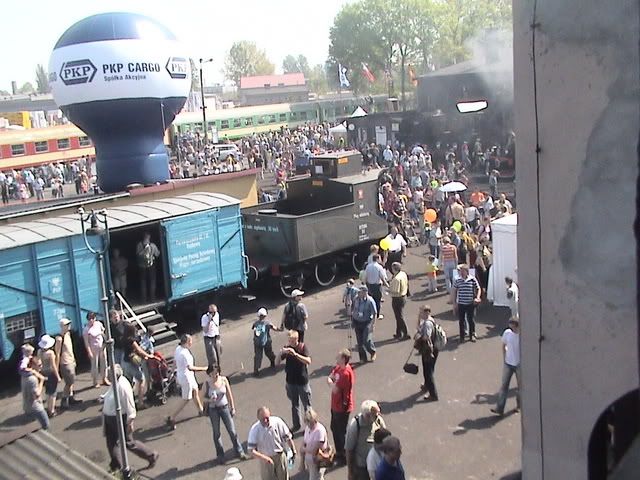 It was that point that i realised so many pictures were going to be taken that day that it really wasnt necessary for me to take my own set and i eased off a bit.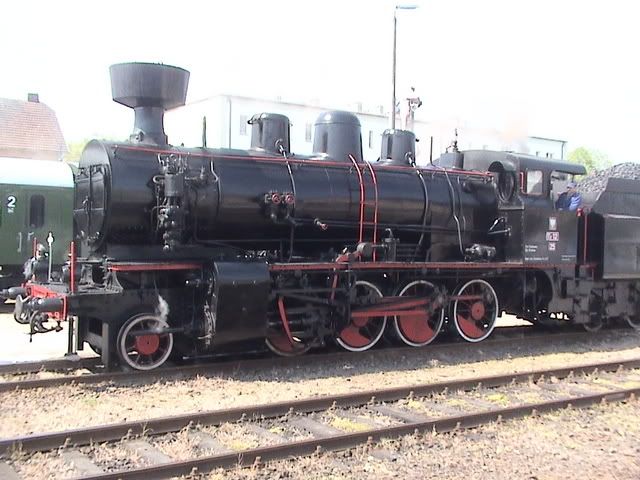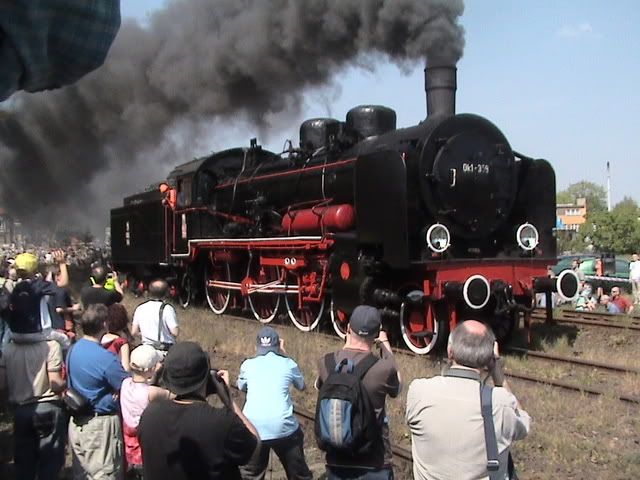 The highlight of the day was the parade. it was really stunning to see so many big engines from so many parts of europe all in 1 place.
All too soon it was time to make our way back to the station and we had just a few minutes to hang around the station while a former russian diesel pulled in. Eastern europa is an area that interests me alot (particularly because of a project i have on the go at the moment) and i was as delighted to see a russian diesel as i was to see the prarie.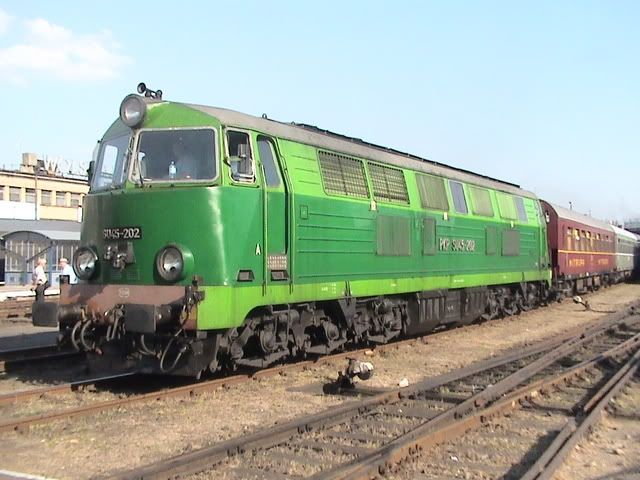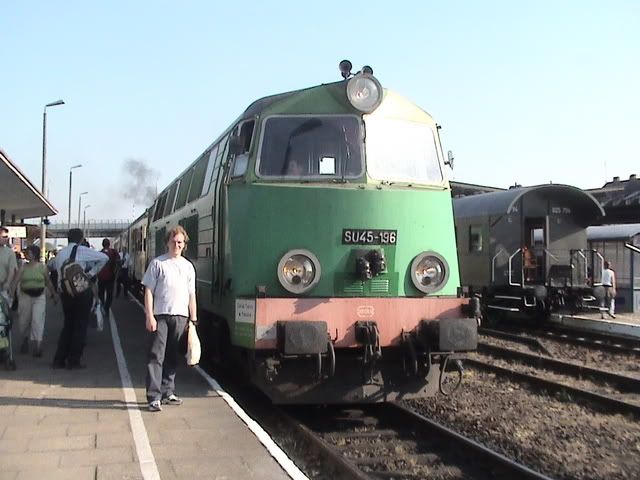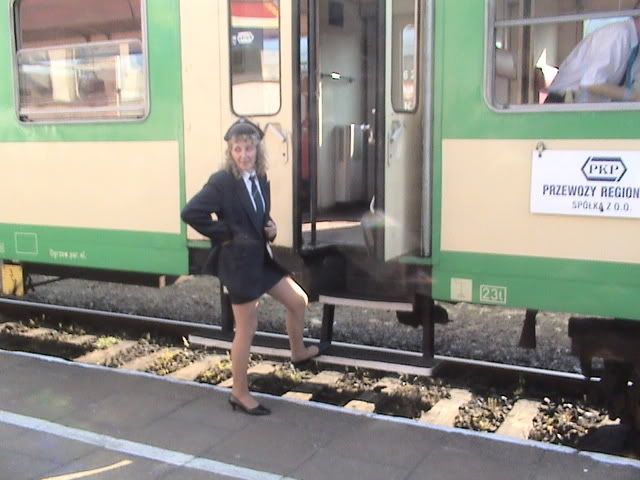 The guard on the train.
The highlight for mee was seeing a Czech class 475. it is truly a work of art and as striking as anything we had or have in the west.
Unfortunatly i have lots of video but no pictures of it so you will just have to use your immagination.
Unfortunatly no measurements got taken because of the number of people but i had a wonderfull time.
There were a few bits that i could have done without. While i commend them for making the effort, I could hyave lived withought seeing the prarie. it was hardly the ambasador for brittish engineering that could hold its head high against the others there that day.
The bar on the train. you are going to see a fantastic sight of 20 big steam locos strutting their stuff especially for us, why on earth would anyone want to drink? it was contained but when i first went into that carridge i did think "brits abroad".
And another thing that i would never mantion had it not been for my visit to donnington a couple of weeks ago. at donnington we had a wonderfull sight of seeing mario andretti doing a photo opportunity with his lotus.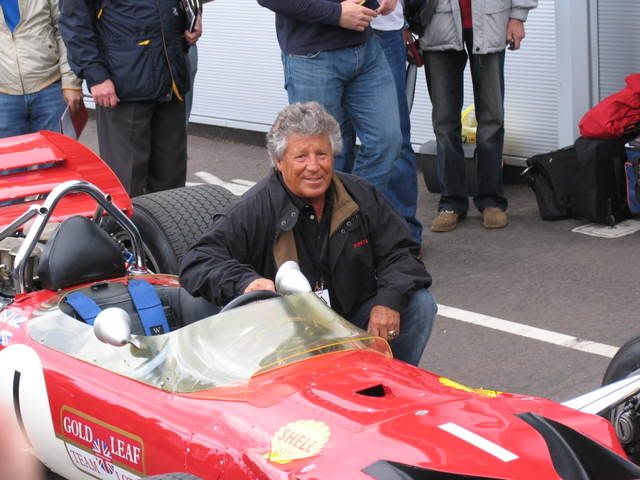 there were lots of photographers there both pro's and amateurs. but i was really quite supprised when people took their picures and then moved away so someone else could have a go. it was a kindness and understanding that i have never seen before and of course mutually benificial.
At Wolsztyn there were a few people who would not have moved had a nuclear bomb gone off. they had to have the best shot of all and nobody else could have it. Pictures posted in a magazine that could only have come from the bugger stood infront of me mean i now have the name and i know exactly which magazine he works for. Perhaps we could all learn something from the motor racing fraternity.
It was a very plesent ride home (again about 90 minutes) but took 2 and a half hours to get from Gatwick to my home at kings cross.
Peter